Ah, the autumn season begins its turn. The fiery orange of sunset seems to take on an even more magical hue. Maybe your lady friend has traded in her summer shorts for jeans and a light sweater, but she is still beautiful just the same. The bourbon begins to taste sweeter, if such a thing were possible. Yes, my friends, it is that time of the year. The Doctor and his lifelong partner in partying, TNCC head honcho Matthew Cade, are ready to immerse ourselves once again in all things Halloween.
I am not sure what can be written about Halloween that hasn't already been windbagged about at great length. Probably nothing, but The Doctor will give it the old collegial try and share my personal thoughts. We know that John Carpenter, with a couple of lesser known feature films and a handful of student shorts to his name, sat down with producer Debra Hill to work on a script for a horror film that had a working title of "The Babysitter Murders". With a shoestring budget of $300,000 – obviously inflation would have a profound effect on this numerical figure, but it was still a relative pittance when making a motion picture in 1978 – Carpenter delivered the master work that is Halloween.
Even forty years later there is still no way to overstate the groundbreaking cultural and cinematic impact of Halloween. The minimalist opening credits sequence featuring Carpenter's iconic (and still spine tingling) musical score while a solitary jack-o-lantern inches slowly forward is as powerful and menacing of a start as any in film history. It sets the tone for everything that follows, from the beginning voyeuristic sequence featuring point-of-view cinematography to the chilling denouement. It is not just a landmark of horror movies – remember that Halloween was released two years before Friday the 13th and six years prior to A Nightmare on Elm Street – it is simply a landmark film, with all genre constrictions removed. Carpenter and director of photography Dean Cundey proceeded to shoot a beautiful looking movie, successfully transforming Pasadena, California, into a remarkable facsimile of Middle America (I know that supposedly at one point you can catch a glimpse of a damned palm tree but, if you are one of those hipster ass-faces who looks for such things, go elsewhere). It isn't just the spit and polish of a few lawn bags filled with painted leaves; every single shot selection, every subtle camera movement, the way everything is framed to observe the kids or the robotic movements of The Shape is a lesson in how to heighten tension and further draw in an audience.
And what of the film's players? Donald Pleasance's performance of Dr. Sam Loomis is a study in acting as delivered by a legendary practitioner of the craft. Pleasance's portrayal of Loomis would evolve over the years and sequels – deliciously and even necessarily so – but his nuanced performance in the original film was introspective and thoughtful while also smoldering and slowly growing in intensity in correlation with the film's arc. Pleasance wasn't paid much, but according to Carpenter he asked inquisitive questions about the character of Loomis and off-camera was a humorous and kind-hearted man. Apparently, Christopher Lee was offered the role of Loomis and turned it down only to later say that it was one of his greatest regrets. With all due respect to the one and only Mr. Lee, Donald Pleasance WAS Dr. Loomis, and it is impossible to imagine anyone else delivering what was required in the manner that Pleasance did. The final proof is in the pudding.
Jamie Lee Curtis generates pathos with her touchingly innocent and honest performance as the teenage babysitter Laurie Strode. She is somehow cute, vulnerable, thoughtful, and possessed of an inner toughness at the same time, without ever seeming disjointed. That is quite an accomplishment for an actress that was a teenager herself at the time of the filming. I believe that Carpenter himself has stated that he never intended for virginity to imply any sort of moral victory or righteous shield from evil; it's just that the other teenagers were focused on sex and were far less likely than Laurie to notice something might be amiss. Jamie Lee Curtis, Nancy Loomis, and P.J. Soles all work wondrously together and individually in bringing these elements to life. Had The Doctor been a metaphysical character in this film, I would have been killed immediately. Perhaps not for getting laid, but I damn well would have been trying to… and I would have been drunk of course.
And I would be terribly remiss if I did not mention Charles Cyphers as Sheriff Leigh Brackett. Cyphers was perfectly cast as the caring father and quintessential small-town cop. The Doctor and TNCC chairman Matthew Cade had the pleasure of meeting Charlie at a Texas Frightmare Convention some years back and had a beer or two with him. As Cade and I finally walked away so that other people could finally talk to Charlie, Cade looked back and said "You're the ONLY Sheriff Brackett." Cyphers grinned and gave a thumbs-up. Yes, it was as fucking awesome a moment as it sounds. That thinly veiled reference will be the only I make to any remakes.
Carpenter has cited influences on his style such as Alfred Hitchcock and Howard Hawks; and like some of the works of his predecessors, Halloween is an inimitable masterpiece of film. Watch Halloween again. And if you have never seen it, then for Christ's sake, do yourself a favor and watch it for the first time, preferably as the holiday itself approaches and the daylight inevitably grows shorter. If you can locate some Jolly Time popcorn and an old-fashioned popper, even better. In fact, if you can do that, then invite The Doctor over for a viewing. Ply me with a few cocktails and I will regale all those present with my various Dr. Loomis impersonations. Like any impersonation of John Carpenter's Halloween, it might be good for a few tipsy laughs on an otherwise boring autumnal evening, but everyone will be cognizant of the fact that it is nothing more than a pretender to the throne. Happy trick or treating.
*So let me preface this new series that The Doctor and I are embarking on by stating that when I first had the idea of reviewing all of the Halloween film entries leading up to the most recent release this October, I planned on pairing each movie with a premium cigar that for whatever reason struck a chord with me as far as connecting to each individual movie. It could be a faint tie-in at best, but it would be personal and the pairing would make sense TO ME as a lifelong devotee of the Halloween series. That's all that mattered as far as my thought process. As we began this jump into the mythological world of Haddonfield, I soon realized that this would be a perfect time to discuss and review some Drew Estate cigars that we had acquired throughout 2018 on our many adventures working for DE on the road doing various video and editing work for the company. So I will be reviewing a Drew Estate cigar within each of these initial posts (I imagine that I'll be mixing in some non-DE offerings down the line but we shall see… there are no rules) AND I will be breaking TNCC tradition by rating each cigar as I go along. Why? Because it's Halloween, my favorite time of year, and I'm the boss so I can do what I want. I hope you enjoy these posts as much as we are going to enjoy sharing them with you.
The original Halloween was the first horror film I ever truly, madly, head over heels fell in love with. And the Liga Privada No 9 was the first premium cigar that captured my heart almost eight years ago. I was immediately and completely captivated by John Carpenter's Halloween from the very first scene of the film (granted I was much too young to realize that Judith Myers's very lucky – in many ways – boyfriend literally CAME and went in that opening scene in under two minutes flat. I mean he took her upstairs, got her naked, did the nasty, and was on his way to drink with his buddies in under two minutes!) but even at the tender age of twelve I was swept away in the vast cinema of it all. The small town dread of it all. The simplistic genius of it all. And a few decades later I was swept away again the first time I set fire to a Liga Privada No 9. I had just recently entered the world of premium cigars and while I had smoked some good shit, this was the first HOLY SHIT moment where I found myself savoring every puff, every nuance, that the cigar delivered. I was sitting on a folding chair drinking a Lone Star in the garage of a rental house of all places, alone and freezing my nuts off, while awaiting the birth of my first daughter in the coming days. My mind and palate weren't prepared for the Liga 9 and they were equally blown away. You never know when it will happen, folks. This year Drew Estate has introduced some new sizes to the Liga 9 portfolio and tonight I'll be reviewing the Corona Viva vitola.
Size: 6 x 46
Wrapper: Connecticut Broadleaf
Binder: Brazilian Mata Fina
Filler: Honduras & Nicaragua
Price: $12.08
PRE
The Liga Privada No 9 Corona Viva is firmly rolled, there's just the slightest bit of give when pinched between two fingers (just like yours truly). That dark broadleaf oscuro wrapper is just as sexy and seductive as it was eight years ago. Prelight sniff of the wrapper reveals sweetness, nothing but sweetness, it's like sticking your nose in a pouch of Redman chewing tobacco. The cap clips off easily with my guillotine cutter and the predraw reveals pure earth with just a hint of barnyard hay.
FIRST HALF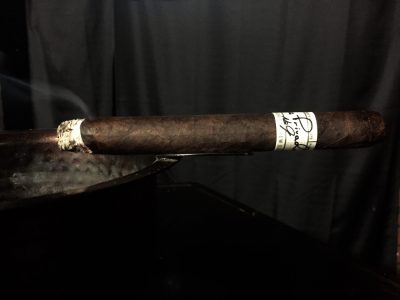 Spice out the nose and rich French roast coffee on the palate are both immediate upon ignition. A dark chocolate note quickly introduces itself as well. And that classic Liga Privada smoke production is already making itself known to all in the room (if there was anyone else here, which there isn't. like Michael Myers I'm a loner). Just like a classic slasher movie villain is known for his trademark mask or weapon of choice, a truly memorable cigar is known for a unique aspect that gives you something no other stogie does. That copious smoke pouring from the head and drifting slowly up the cigar where it greets and becomes one with the smoke coming from the head… I could watch that mesmerized all day like one of those three-hour fireplace videos.
The first half of the smoking experience plays out with those same flavors coming in waves, dark chocolate and coffee, dark chocolate and coffee, and the spice is there when you want it on the retrohale. I am noticing that due to the smaller ring gauge the overall strength of the Corona Viva is dialed down a bit from my usual size of choice (the hefty Corona Doble) and, honestly, I'm digging it. Some people a lot smarter than me might call this a more "refined" Liga 9 and, as much as I despise those knowitall nerds, they might be right this time around. The white ash is solid and it sticks around like a like a movie franchise going on Parts 7 and 8 ~ you can dump it or it's there if you want it to be.
SECOND HALF
One thing about the Liga Privada No 9 has always been its deliberate lack of complexity. There are no real transitions per se, it delivers the goods that it delivers and if those flavors suit your fancy you will be happy, much like the Halloween films themselves (well until "The Man In The Cowboy Boots" inexplicably showed up in Part 5 but The Doctor will tackle that unfortunate topic in a future entry). Construction is fantastic throughout, with a nice burn line requiring no touch-ups and a smooth draw.
As I stated, the deep coffee and chocolate flavors are consistent and the spice through the nose is as well. And there's a major jump up in strength (into full FULL territory soon after the halfway mark) that is awesome, it reminds you that you are in fact smoking the original Broadleaf Bully. Michael Myers was an original too, the first Slasher to slash, but that goes without saying. The Corona Viva is also a surprisingly slow burning smoke, the total duration was right around two hours.
FINAL TNCC SCORE: 93
THE NUB
Have I smoked some Liga 9s that didn't live up to my lofty expectations? Sure. Have I watched some Halloween entries that didn't leave me salivating to buy the home video release a few months later (I'm looking at you Halloween: Resurrection). Sure. But after all these years I'm confident that the next Liga Privada No 9 I smoke, just like the next Halloween movie I watch for the hundredth time, will give me exactly what I'm looking for. Hell, I might even spring for a fiver of these Corona Vivas for the boys to smoke on the show because, after all, aren't we entitled to one phenomenal smoke? Now I want you to go down to the McKenzie's house and get some help because I'm drunk. To be continued…