Cigar: Nirvana Cameroon Selection (toro 6 x 52)
Company: Drew Estate
Wrapper: African Cameroon
Binder: Mexican San Andrés Negra
Filler: Nicaraguan Estelí and Jalapa
Price: $10.85
Acquired: Received as a gift from Drew Estate's Drew Diplomat program (2015)
Elements: Corner Of No Hope / Water
I know when you hear the word "Nirvana" the first thing that pops into your head is this incredible album cover by brilliant satirist and American national treasure Weird Al Yankovic. Well, there is now another memorable object associated with the word and that's what we're here to talk about tonight. The Nirvana Cameroon Selection toro by Drew Estate. The decorative gold band with corresponding foot band is very different than any other Drew Estate products I can think of. I like the royal presentation as well as the font used for "Nirvana". There is a faint smell of barnyard on the presniff, very faint.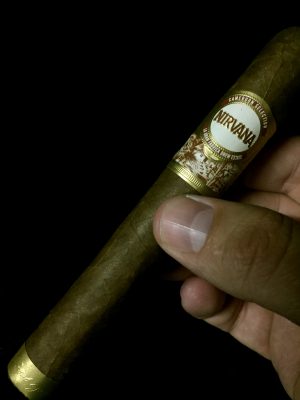 1/3
After a gentle clip from my scissors, I toast the foot with my dual flame Xikar and the games begin! While there is heavy spice on the retrohale right out of the gate, my palate is immediately overwhelmed with a taste eerily similar to toasted marshmallow. The cigar gives off beautiful white smoke and, just a few puffs in, notes of roasted coffee emerge.
Construction so far is spot-on with a perfect draw and straight burn line. This was a minor concern as the only other Nirvana I previously smoked had an extremely fragile wrapper that cracked on me BUT I was vacationing on the coast at the time and it very well could have been a reaction to the drastic change in humidity the stogie experienced. The Nirvana is on the mild side of medium, a very smooth smoke so far that wouldn't scare anybody away strength or flavor wise. The ash dropped off in a solid chunk right as the first third came to a close.
2/3
The marshmallow is still present, only the coffee note has taken a turn towards a much darker bolder roast. The strength has also gradually risen to a solid medium as we approach the halfway point of the cigar. My wrapper concerns have proven to be unwarranted, thankfully, as the Nirvana is holding together like a pro.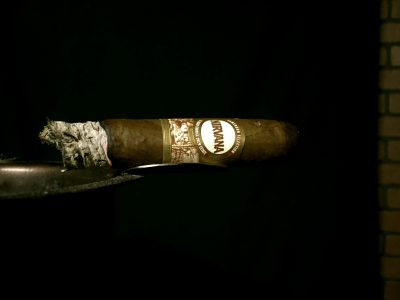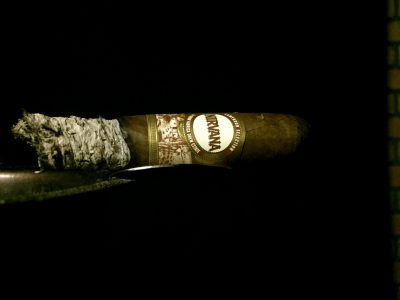 I know it's not a popular opinion but as a child of the 90's I don't consider myself a fan of the band Nirvana. The Nevermind album got its fair share of spins in my truck's CD player but I mostly just listened to "Come As You Are" on repeat because girls dug that song the most. It was the stand-out highlight track for me, much like the toasted marshmallow is the highlight of this cigar so far.
Other pleasant flavors of coffee and a slight raisin-like sweetness may come and go but that marshmallow always dominates. The ash holds on all the way down to the band.
3/3
The strength slides back down to the mild side of medium territory as the final third progresses. A faint creaminess is introduced as well as a brief woodsy note of cedar and I really wished these flavors were more pronounced and had established themselves more.
With about an inch left, the Nirvana got a bit hot to my fingertips so I let the stogie fall into its final resting place at the bottom of my stinky ashtray. As Kurt Cobain quoted Neil Young in his suicide letter. "It's better to burn out than to fade away." Indeed, Kurt, indeed.
THE NUB
Unlike the overrated band that shares its name, I think the Nirvana Cameroon Selection may be an underrated entry in the Drew Estate portfolio. Some of that may be a result of the price point, at just over $10 a stick that is right around the dollar amount that I think lots of folks are hesitant to spend on a new cigar they've never had before. There's also not a great deal of complexity to be found here. However if toasted marshmallow flavors and an incredibly smooth relaxing smoking experience is something that appeals to you, do yourself a favor and give the Nirvana a shot.