A few years ago we all went to the movie theater and checked out Terminator: Genysis and then raced back to the Corner Of No Hope and turned on the mics to deliver to you, our beloved audience, our immediate thoughts on the first Terminator film in years to once again feature the almighty Arnold Schwarzenegger. We didn't care for that movie, no fault of Arnold, but we couldn't help but be optimistic when returning to the local cineplex this month to soak in the latest time-traveling extravaganza Terminator: Dark Fate. Did this flick improve upon the lackluster Genysis? Did we love it? Did we even like it? Well you're just going to have to click the links below and join the party to find out!
Size: 7 x 48
Wrapper: Nicaraguan Habano
Binder: Nicaraguan
Filler: Nicaraguan (Jalapa and Esteli)
Price: $9.50
What can we say about Daniel Marshall that we haven't said already? No, seriously, I'm asking you guys – what can we say? We've interviewed the industry icon twice over the years (you can check out our in-depth chat with him from 2018 HERE) and Daniel has always proven himself to be a wealth of both knowledge and fantastic stories, a true gentleman, and the definition of a Brother Of The Leaf.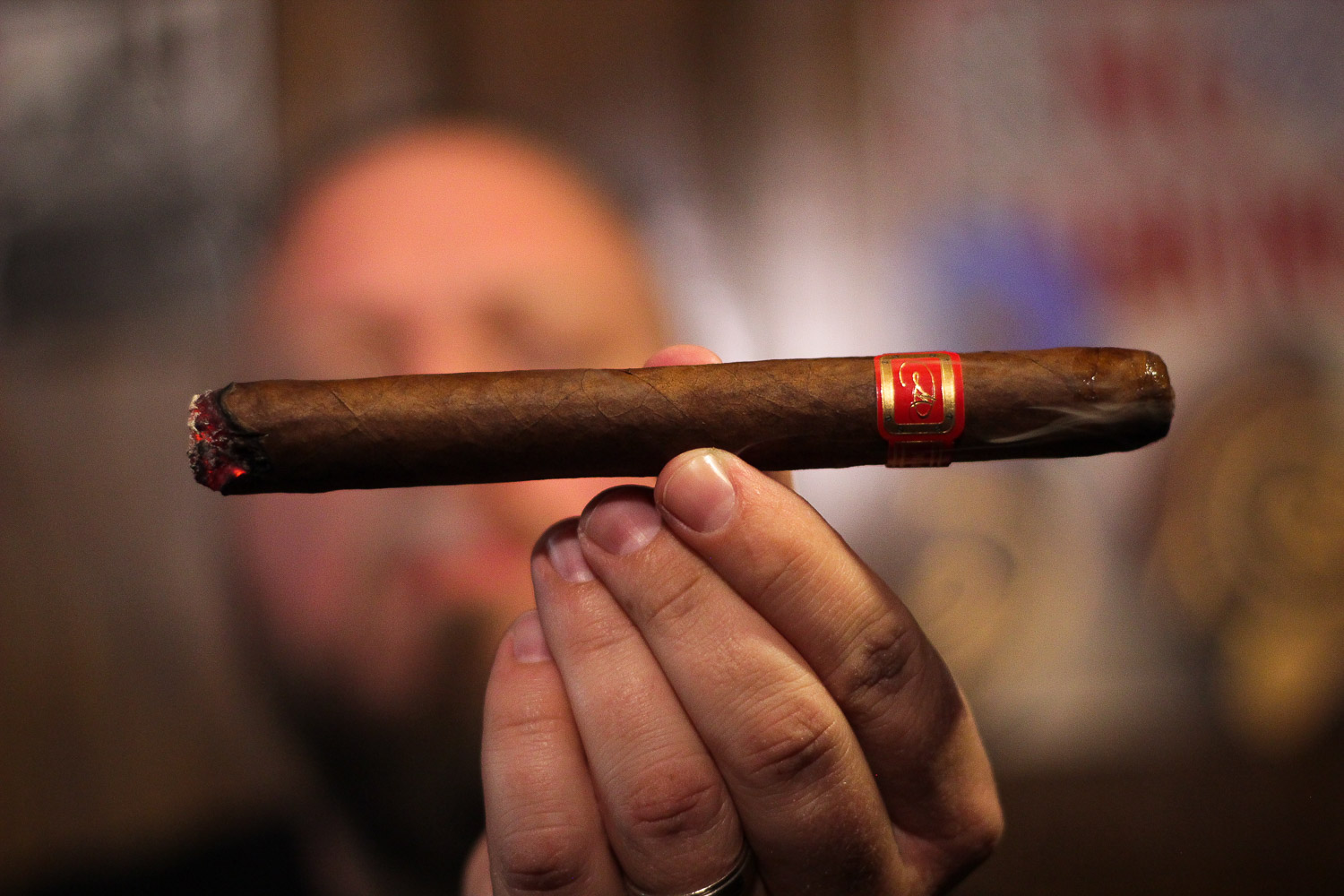 Black English tea, mineral, hay, and chocolate are all featured flavors on the cold draw (and, yes, that's a hell of a lot of flavors from a cold draw). Upon ignition there's that warm Nicaraguan earth and mineral with just a slight tingle of pepper on the nose. Medium bodied and medium to full strength – this cigar features the epitome of well aged, properly aged, Nicaraguan tobacco. Coffee, earth, dark chocolate all flood your senses with a super smooth delivery. The Red label churchill is a great after dinner cigar, great morning cigar, just great fucking cigar period.
Superior construction, with a smooth draw and an ash that hangs around for days, this is a cigar that I would hand out to both a total newbie and a cigar veteran without hesitation. The Daniel Marshall churchill was consistent as expected, we gave it four thumbs way up, and at this price point it's an absolute steal.
TNCC FINAL SCORE: 92
Our main man Arnold is named "Carl" in tonight's film for some reason, so here we are with a CARLsberg beer. Pairing experts, folks, pairing experts… Actually when I saw that this Elephant beer was supposed to have notes of banana I realized that it would have been a perfect pairing for our last episode featuring Snorky The Elephant and the rest of The Banana Splits gang. But we can't go back in time, can we folks? Not yet at least.
It's extremely malty and, well, the Carlsberg Elephant tastes like… beer. There's no pine nuts or banana as the brewery suggested there might be… it's just beer. If you're looking for nuance this ain't the direction you want to go. Unlike an elephant, hopefully I won't remember this beer in the morning. I'd say we gave it four thumbs down but we ended up drinking so much of it that we gave it a couple half thumbs up by the end of the show.
As I stated above, I aint gonna tell you jack shit about our thoughts on Terminator: Dark Fate here on this episode page. That's what the podcast is for. But I will say one thing – despite a somewhat lazy screenplay and some unimpressive CGI, there are standout performances by Arnold and series newcomer Mackenzie Davis. They're both fucking awesome and worth the price of admission alone.
Post-governor Arnold continues to impress the hell out of us with every film he appears in. From Maggie to Killing Gunther, the Austrian Oak continues to display an acting range that puts him on a level almost all his own. And Daniel Marshall Red Label cigars continue to be one of the most consistently enjoyable stogies in the TNCC humidor. Speaking of the TNCC, hopefully we continue to entertain you with our lively conversations, our drunken hijinks, and our smoldering good looks.
Please leave us comments on the YouTube episode page, provide us with a review on iTunes, or be a real stud and do both! All these seemingly small gestures would be greatly appreciated as they let us know exactly what you're thinking about this sweat soaked tidal wave of hardbodied insanity we like to call The Tuesday Night Cigar Club.
Below is tonight's full episode for both your viewing and listening pleasure. Thank you for checking out The Tuesday Night Cigar Club and we'll see you next time when we review another cigar, adult beverage, and film. May the wings of liberty never lose a feather…
Podcast: Play in new window | Download (70.3MB)
Subscribe: Apple Podcasts | RSS