If you're wondering why my fingernails are painted hot pink the screen grab above, the answer is quite simple. I've been quarantined with my young daughters for over a month now and strange things are bound to happen. Yes folks, this is the new normal for now. This is our first episode in 5 years where the TNCC crew hasn't sat down together at the table as we had to record tonight's show with everyone scattered all around Central Texas from the safety and isolation of their respective homes, pubs, and Corners of No Hope. The show must go on!

Size: 6 x 46 (corona gorda)
Wrapper: Connecticut broadleaf
Binder: Ecuadorian Connecticut
Filler: Nicaraguan
Price: $10.00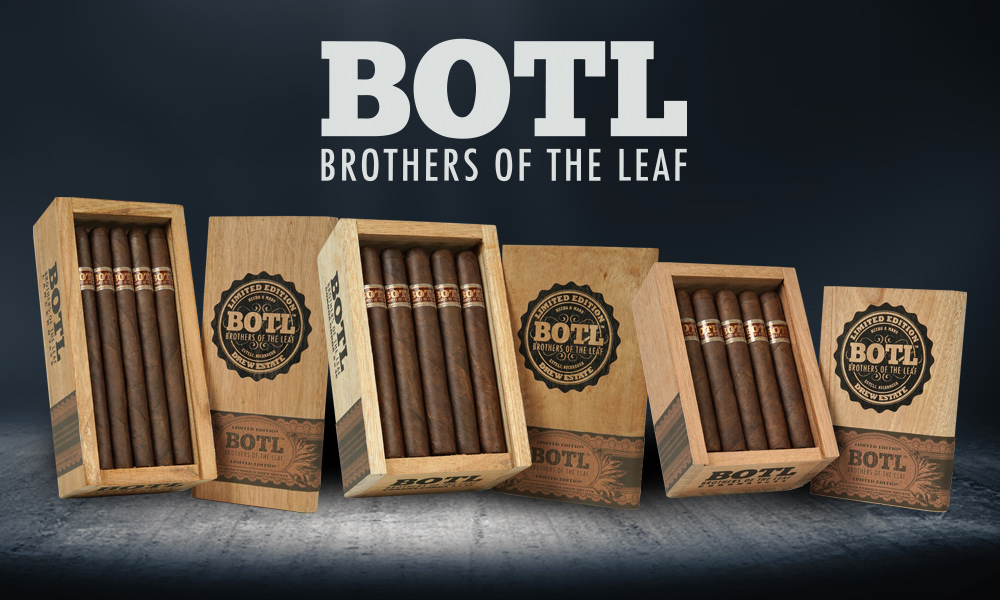 Cold draw has the aroma of sweet raisins and milk chocolate so basically the cold draw is Raisinetes. We also picked up on a touch of hay coming off the extremely smooth broadleaf wrapper. There's an exceptionally nice profile of oak and chocolate on the draw with just a minimal amount of pepper and mineral on the nose. Well, let's go with a "woodsy" note on the draw as my oak was Tut's cedar. Tut also picked up on a graham cracker flavor on the retrohale as well.
The peppery retrohale increases in strength as the smoking experience continues all the way through the final third which we appreciated while the profile otherwise (woodsy and chocolate) pretty much stays the course. Construction throughout all three samples was impeccable. We couldn't mentally compare the BOTL to anything else available in the Drew Estate portfolio so if you're looking for something high quality and different THIS is the stick for you.
Also worth mentioning, some of us followed up the BOTL with the new Undercrown Pequena which is the perfect size (4 x 44) if you're in an area of the country that's still freezing cold outside, if you've got a need for a high-quality quick smoke on your lunch break, OR if you suddenly find yourself tits deep in a hellish pandemic nightmare… AND not only is it a great size but it's also a worthy addition to the Undercrown brand for its flavor-forward approach and, again, outstanding construction. Seek these little beauties out!
Also for the first time in Tuesday Night Cigar Club history we are all drinking something different from one another this evening. Luckily, the great state of Texas considers liquor stores and breweries "essential businesses" so we were all able to acquire some essential goodness. If you want to know our thoughts on these four vastly different beers, well, you'll just have to watch or listen to the show below!
HOP TORPEDO by SIERRA NEVADA
THE OLD MAN STRENGTH TRIPLE & THE ALOHA Y'ALL by RED HORN BREWING
WEEKEND WARRIOR by KARBACH BREWING
There's a lot of directions I could've gone tonight, fellas, the apocalyptic film genre is vast to say the least. BUT I didn't want to go straight doom and gloom as there's plenty of that particular strain of bullshit all over the news and social media these days so I went in a different, more obscure direction… and here we are.
Warriors of the Wasteland (aka The New Barbarians, now streaming on Amazon Prime) is a fun headscratcher of a flick that features some wonky over-the-top performances, some top notch impressive special effects, and Fred Fuckin' Williamson. We have a blast talking our way through this one so click the links below and join in on the conversation!
We will get better at these remote shows from a technical standpoint, I promise. But the heart and soul of the show is always going to be there and, most of all, the party. Especially these days we need to JUST PARTY more than ever. So please hang in there and let us help you in the Good Times Department…
Please leave us comments on the YouTube episode page, provide us with a review on iTunes, or be a real stud and do both! All these seemingly small gestures would be greatly appreciated as they let us know exactly what you're thinking about this sweat soaked tidal wave of hardbodied insanity we like to call The Tuesday Night Cigar Club.
Below is tonight's full episode for both your viewing and listening pleasure. Thank you for checking out The Tuesday Night Cigar Club and we'll see you next time when we review another cigar, adult beverage, and film. May the wings of liberty never lose a feather…
Podcast: Play in new window | Download (63.5MB)
Subscribe: Apple Podcasts | RSS