Size: 5 ½ x 46
Wrapper: Connecticut Broadleaf
Binder: Brazilian
Filler: Nicaraguan & Honduran
Price: $15.99 (head over and visit our partners over at Famous Smoke Shop where they have an amazing selection of Drew Estate Unico series cigars and by using promo code TNCC20 you can pick them up at a price that feels oh so right)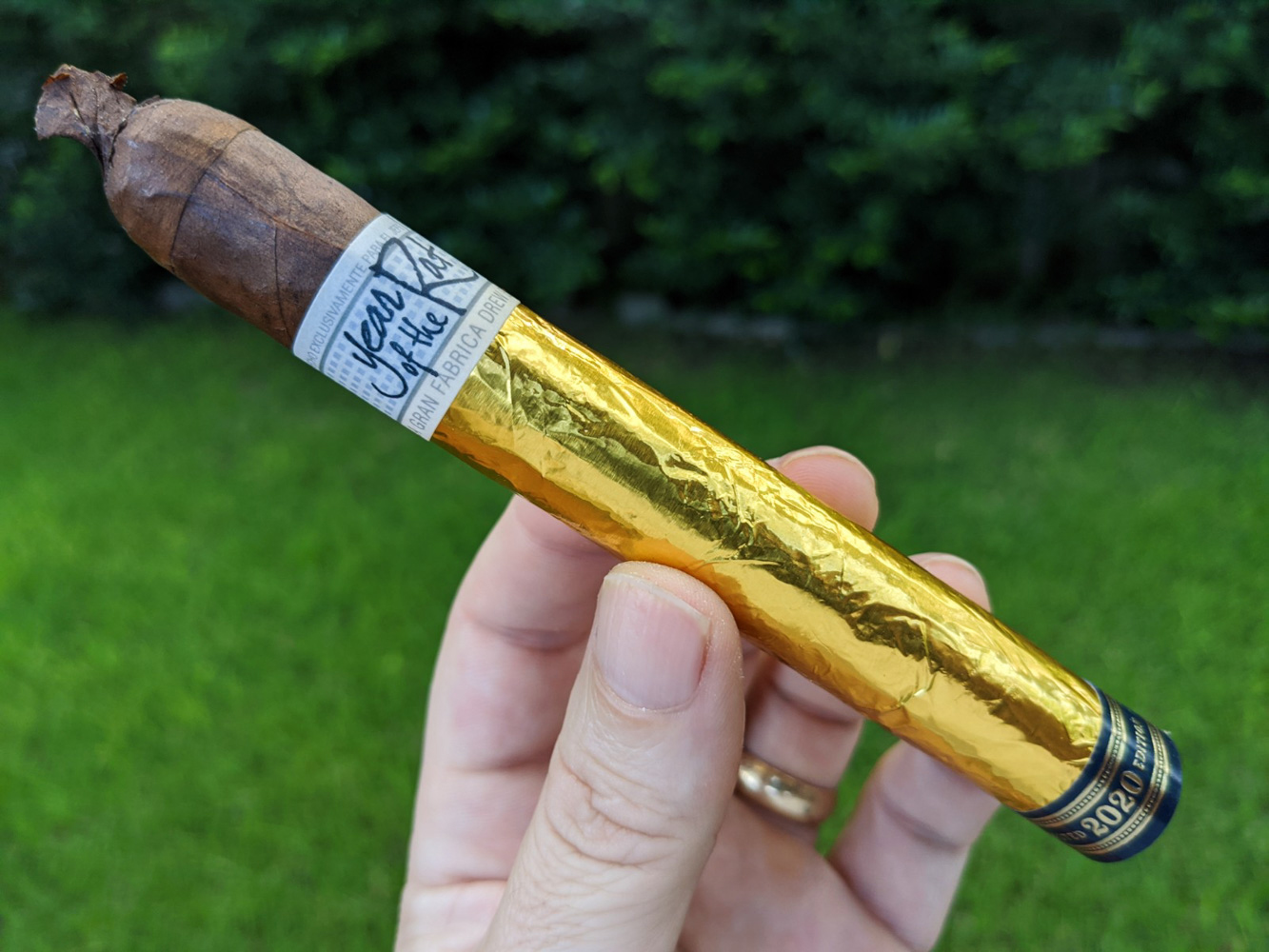 Drew Estate recently launched the Liga Privada Unico Year of the Rat for upcoming Drew Diplomat events to coincide with the Chinese New Year and they were kind enough to send us some samples for review. The Year of the Rat cigars are presented in a 5 ½" x 46 vitola featuring the iconic fan tail featured on many Unico Serie cigars. The cigar is highlighted by a lush Connecticut Broadleaf capa with a flavorful Brazilian binder and rich Nicaraguan and Honduran fillers. Each Year of the Rat is wrapped in gold foil packaged in a beautifully embossed, blue Liga Privada Unico box.
Upon twisting off the unique cap (no cut required) the Year Of The Rat immediately starts smoking like a champ right out of the gate. Now that's craftsmanship out the ass! Chocolate and dark rich coffee on the draw present themselves immediately, the chocolate almost melts in the back of your throat coating it in awesomeness. In other words, the finish with this this cigar is fantastic. The aroma is amazing as the smoke pours off the foot and travels up the body of the cigar. There's an all-encompassing spice through the nose upon ignition but that spice dies down considerably soon after and is joined by a mineral component.
The thick white ash is blocky, solid, and strong. Construction is beautiful throughout the smoking experience. French Roast coffee joins the chocolate on the draw along with some earthiness as the smoking experience continues and that's not a bad thing. The spice is minimal now with the retrohale comprised almost entirely of the heavy Nicaraguan mineral presence. AND some of the boys at the table got graham cracker and cinnamon from the cigar in the final third! The Year Of The Rat has a phenomenal finish as that earthiness just lingers on your palate once setting the cigar down. Tut said in the show, "If you're a cigar lover who likes rich flavors you're going to love the Year Of The Rat" and for once I agree with him.
Once again folks, usually (before this mini apocalypse was thrust upon all of us) we would carefully – some of you have said "expertly" – pair our evening's beer with the cigar and movie and we'd all drink that same beer and compare notes. But since this whole COVID-19 shitshow has happened, each member of the TNCC is now solely responsible for risking their lives out in the wild and acquiring their own beers for each episode. It ain't an ideal situation but, then again, what is these days…
As an IPA GUY like myself, Yaks found this beer lacking in anything special flavor-wise but it had a rooster on the can which ties into tonight's film nicely so his status as a cigar-beer-movie pairing expert is secured for yet another week! But seriously, with that many varying hops in the beer it should lead to more than a "meh" from our resident beer expert…
One of my current favorite Double IPAs, this beer is smooth yet powerful as all hell and it'll get ya if you're not careful (SPOILER ALERT: I am not careful). It's a delicious IPA with a very citrusy aroma that will get you nice and fucked up all while enjoying the hell out of what you're drinking flavor-wise. And it has "movie" and "lions" in the name of the beer and we are talking about a creature-feature movie tonight so my reputation as a cigar-beer-movie pairing expert is also secure for yet another week!
While not noticeably bitter for an IPA, it is brewed in the New England style after all, The Doctor found it quite enjoyable nonetheless. He may have offered more insight into the beer as the night rolled along but we were drunk and perhaps weren't listening to him at that point…
"It's a hefty, weighty, yeasty, floral beer" said Tut and why should we question him after five years of doing this shit? And he also said it was "tasty", so you should probably grab a sixer if you happen to find them nearby. Both the cigar and the beer were strong enough to stay out of each other's way and sometimes that's all your looking for in a pairing.
So I had never viewed The Food Of The Gods prior to selecting it for this week's film discussion; however, the second I realized that I needed a "rat movie" I knew instantly that THIS was our rat movie. One of my favorite films as a kid was the exceptional documentary Terror In The Aisles and of the hundreds of horror movie clips that it showcased, I always loved the moment showing an old lady beating the hell out of a giant rat in her kitchen.
That image has stuck with me for over three decades so (A) this choice was a no-brainer and (B) it's a real head scratcher how I never watched this flick before! Needless to say, with a movie featuring giant fucking rats, enormous chickens, and wasps the size of a Volkswagen Beetle your favorite crew of drunken cinephiles have a blast talking our way through this one. Seriously, how could we not? So click the links below to watch or listen and JOIN THE PARTY!!!
Also, do to our extensive research (again we, remember, we are PROFESSIONAL drunken cinephiles) we learned that a group of rats is called a "mischief" so if Drew Estate chooses to ever release a boxed sampler combining all of the various Rat cigars together, "The Mischief Box" fits like a glove. And we also saw the evil rats led by a diabolical albino rat so if Drew Estate ever releases a Connecticut lighter shade Rat cigar, the "Albino Rat" shall be born! You're welcome, DE Marketing Team, you're welcome…
Please leave us comments on the YouTube episode page, provide us with a review on iTunes, or be a real stud and do both! All these seemingly small gestures would be greatly appreciated as they let us know exactly what you're thinking about this sweat soaked tidal wave of hardbodied insanity we like to call The Tuesday Night Cigar Club.
Below is tonight's full episode for both your viewing and listening pleasure. Thank you for checking out The Tuesday Night Cigar Club and we'll see you next time when we review another cigar, adult beverage, and film. May the wings of liberty never lose a feather…
Podcast: Play in new window | Download (68.6MB)
Subscribe: Apple Podcasts | RSS