So we revisit our beloved creature feature genre of film tonight and, yes, we really dig our claws in to this evening's movie. And fueled by our beloved premium cigars and craft beverages we have a damn good time in the process. But don't take my word for it, click the links below and JOIN THE FUCKING PARTY! ROAR!!!!
Size: 6×52
Wrapper: Honduran Oscuro (from the Copan region)
Binder: Honduras
Filler: Honduras
Price: $9.50 (and please remember when purchasing some fine Oscar cigars or other brands from FamousSmokeShop.com to use your new favorite promo code TNCC20 at checkout where it will knock $20 off your purchase of $100 or more)
In 2017 we gave the #10 spot in our "Top Ten Best Cigars of the Year" to the Oscar Habano and a year later we named the 2012 by Oscar Barberpole our #5 cigar of the year and the 2012 by Oscar Corojo our #7 cigar of the year so we have a track record of thoroughly enjoying Oscar cigars to say the least. I also did a Beyond The Pod written review of one of Yak Boy's personal favorite cigars the Leaf By Oscar Connecticut which you can read HERE if you folks at home would like to get my spin on that one (Spoiler Alert: it was another winner). Tonight's cigar The Wild Hunter comes in two forms, the natural and the maduro, and we are smoking the maduro offering because I thought it looked sexier…
The cold draw on the Wild Hunter features notes of an Andes mint that's been placed gently on your hotel pillow and green tea, while sniffing the wrapper of the cigar frustratingly reveals very little. Upon ignition, the OAK presence is overwhelming and gloriously dominant. If you like a woodsy oak flavor in a cigar – this is undoubtably for you. Although, it's certainly worth mentioning, that Tut did get a slight sweetness and some graham cracker and I picked up a faint marshmallow on the retrohale at one point. The Wild Hunter is medium strength and medium body, construction is phenomenal all around.
There is an escalating leather note on the retrohale but this cigar is all OAK. It's unlike the other Oscar cigar offerings we've featured on the show which feature complexity and transitions out the ying yang – OAK is pretty much all you're getting here folks. Yes, there's a marshmallow note and perhaps some other sweet component thru the nose occasionally BUT this sucka is all pretty much pure woodsiness folks. One note, a singular profile, if you're looking for a well-constructed OAK heavy cigar featuring a fantastic aroma – this might be the cigar for you.
Once again folks, usually (before this mini apocalypse was thrust upon all of us) we would carefully – some of you have said "expertly" – pair our evening's beer with the cigar and movie and we'd all drink that same beer and compare notes. But since this whole COVID-19 shitshow has happened, each member of the TNCC is now solely responsible for risking their lives out in the wild and acquiring their own beers for each episode…
While I drank this beer back on Episode 126, The Doctor picked up some enjoyable citrus notes this evening from this 5%, 30 IBUs offering. While he didn't pick up the promised flavor of "freedom" he did get the passion fruit. This is just a smooth, pleasant fucking beer and I'm sure if The Doctor was smoking a cigar it would have paired well. Maybe… who fucking knows…
At 9% and 70 IBUs, this might be my favorite offering from New Belgium. The hops are definitely present and, trust me, there are pine hops aplenty but the subtle maltiness balances everything out very well. There are many park RANGERS in tonight's film so my pairing grade = A+
At 12.1% ABV you obviously can't trust anything that these two numbnuts say about anything tonight. The boys said magical words like maple, chocolate, oak, and all those yummy flavors that good stouts bring to mind. Our cigar featured a bold oak flavor and, as you can imagine, this beer played nicely with that. They both felt that the chocolate flavors in the stout enhanced the barely noticeable chocolate flavor in the cigar so that's awesome and definitely worth noting pairing-wise. Sadly, I made Yak Boy aware of this beer and even instructed him on where to get it and Tut perhaps piggybacked on that recommendation so their collective pairing grade was unfortunately suboptimal at best = C-
Astute fans of the show will certainly remember that we featured William Girdler's 1976 classic Grizzly back on Episode 101 and while this sequel to that classic creature feature (which earned a surprising 30 million at the box office) was shot only a few years later, it was never released and has remained in film canisters on a dusty shelf UNTIL NOW. So what happened, you may ask? Well you're just going to have to watch or listen to the show below to find out!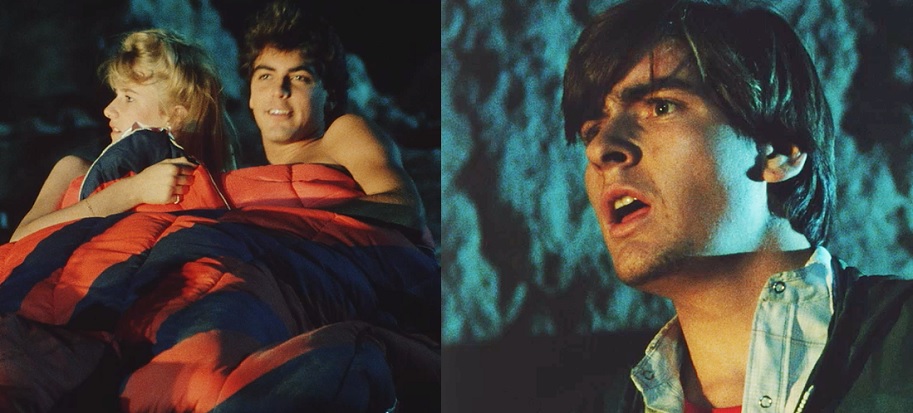 Yes, this super weird ugly duckling of a movie marks the cinematic big screen debuts of George Clooney, Laura Dern, and Charlie Sheen. That's crazy, right? And I use the term "big screen" loosely as this flick has never been shown on a big screen as far as I know. But the story behind why Grizzly 2: Revenge has taken this long to reach an audience is a truly fascinating one and we dig in deep to tell you the story as only we can. So crack a beer and enjoy the show!
Please leave us comments on the YouTube episode page and subscribe while you're there, provide us with a review on iTunes, or be a real stud and do both! All these seemingly small gestures would be greatly appreciated as they let us know exactly what you're thinking about this sweat soaked tidal wave of hardbodied insanity we like to call The Tuesday Night Cigar Club.
Below is tonight's full episode for both your viewing and listening pleasure. Thank you for checking out The Tuesday Night Cigar Club and we'll see you next time when we review another cigar, adult beverage, and film. May the wings of liberty never lose a feather…
Podcast: Play in new window | Download (60.3MB)
Subscribe: Apple Podcasts | RSS