We've had some epic conversations over the years with one of our favorite people in the cigar industry, Mr. Steve Saka of Dunbarton Tobacco & Trust. And tonight is certainly no different. As usual, no subject is off limits (anal beads, donkey dicks, Angela Lansbury, etc) and we feel that this chat will be equally entertaining and educational to both hardcore cigar nerds and casual listeners alike. But then again we've been wrong before… kind of like when we promised Steve that we'd only keep him for 90 minutes. Oops! Well tis the season fro heavy drinking, so pour yourself a pint of some alcoholic goodness, click the links below, and JOIN THE PARTY!
Having Steve Saka on the show obviously means that we are taking a very deep dive in to his latest creations with Dunbarton Tobacco & Trust. Throughout the course of tonight's party, we sample three amazing DTT offerings which, while all drastically different from one another, are all impressive as hell. It's another stellar year for Steve and Dunbarton and if you have the chance to smoke any of these premium beauties we feel confident that you'll agree…
This is a delightful expression of the potential that blending premium cigar tobaccos and pipe tobaccos can deliver. Even without the aid of a sweetened tip, the Holiday Y2022 delivers a rich sweetness that's evident before even lighting the cigar on fire and the rich chocolaty note that follows upon ignition is exceptionally enjoyable from start to finish. The Holiday Y2022 also developed a nice graham cracker flavor that blew Tut's pants off so keep your eyes out for that as well. We paired it with 3 different adult beverages (a Cabernet, a Christmas Ale, and some peaty scotch) and it paired very nicely with the first two drinks – that's commendable for sure – but Tut warned us to steer clear of anything peaty as it tended to contrast too much from the cigar's flavor profile. So crack open a box bottle of nice red wine or grab a mixer of seasonal ales and enjoy the ride!
You can read my review of the SakaKhan HERE but it's very much worth mentioning that Tut had some very insightful comments regarding his own personal SakaKhan smoking experience and you'd be wise to give the show a watch or listen and hear them for yourself. I'd sum them up here but it's late and I'm drunk so you do some of the heavy lifting for once!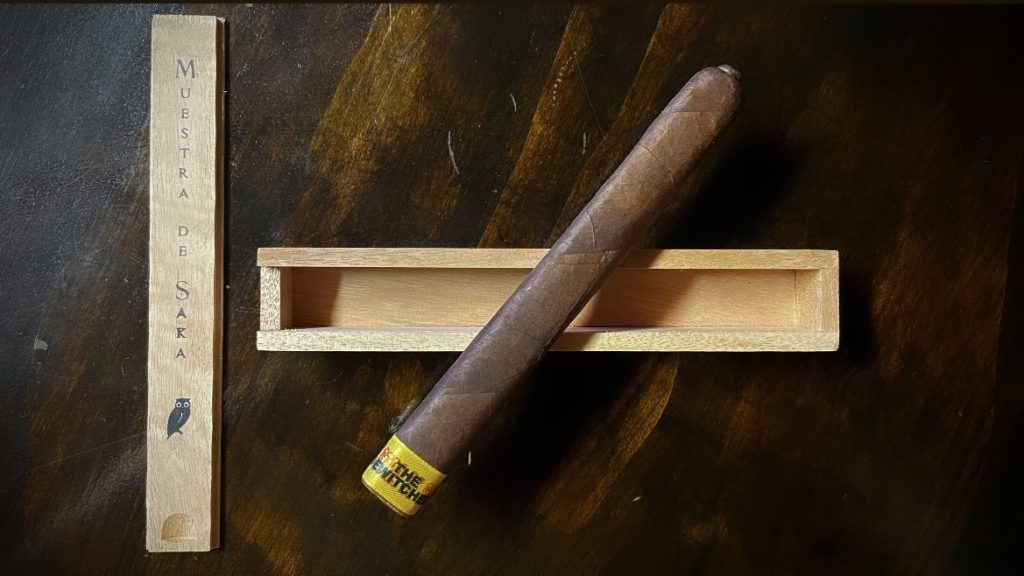 I knew that Yak Boy would love this nuanced, delicious cigar and I was not wrong. You can read my review of The Bewitched HERE and be sure to check out the full show for a further understanding of just how impressive the latest Muestra de Saka truly is…
Once again folks, usually (before the mini apocalypse was thrust upon all of us in 2020) we would carefully – some of you have said "expertly" – pair our evening's beer with the cigar and movie and we'd all sit around the table and drink that same beer and compare notes. But since this whole COVID-19 shitshow went down, each member of the TNCC is now solely responsible for risking their lives out in the wild and acquiring their own beers for each episode… usually with very mixed results.
So… unbeknownst to our beloved Doctor, this is the exact beer that he chose for our last episode. And not only that, he didn't care for it back on Episode 157! So, obviously, if there's a pairing grade less than an F- please let me know as that grade doesn't really seem to sum things up here… classic Doctor…
THE DOCTOR'S PAIRING GRADE = F- –
This holiday-themed imperial stout jingles in at an impressive 12.1% ABV and 20 IBUs and it pours blacker than night. Tut enjoyed the flavor profile quite a bit; however, he felt that the Full Grown Nick's sweet and bold flavors (all spice and nutmeg) were influencing his cigar so he had to space out his sips and puffs to avoid the beer's influence and allow him to enjoy the SakaKhan for what it is.
TUT'S PAIRING GRADE = B
This 7.5% winter warmer ale features cinnamon and nutmeg but those flavors are very slight so it's not like he was eating a Christmas cookie. Instead the minimal sugar and spice and all things nice worked in the Melted Snowman's favor as Yaks enjoyed this beer quite a bit.
YAK'S PAIRING GRADE = A-
Instead of the Christmas classic movie "Home Alone", tonight I'm drinking "Hop Alone" only I'm not drinking it alone at all so there goes your brilliant theory that I have a drinking problem.
The Hop Alone was actually not very hoppy at all and despite its hazy, citrus qualities I wasn't a fan as I found it rather fizzy and boring. I suggested that adding some vodka to the beer might improve its drinkability but I was told (wrongfully told) that such experimentation would be a total alcoholic thing to do… even if I did it in the company of others. You win this round, Society. Anyhoo, Yaks was shocked that I would ever select a lowly 5% beer let alone one that clocks in at a measly 14 IBUs but I am a man of many surprises. Actually, that's not true as I rarely suprise anyone and, in fact, I hate surprises. But it was a seasonal beer that fit the show so I shrugged off my personal preferences and did what was right for the show. If you hear the band Foreigner playing the song "Podcast Hero" in your head right now, that makes sense so don't be alarmed.
YOUR HERO'S PAIRING GRADE = A++
So we approached the second half of the show a little differently tonight. Rather than take you scene-by-scene through a slice of cinematic wonderland, we've tried something new and new shit can be scary… but we are in this thing together so don't be frightened. Click the links below and join us for a round table discussion that simulates what it's like to hang out with the TNCC crew whether it be at our beloved pub or just sitting around the firepit. Some of the topics we discuss: the new holiday musical Spirited, super hero movies and today's lack of real butts-in-seats movie stars, the popular Norwegian film Troll, the 1984 ABC telemovie Invitation To Hell, a truly independent horror film made during the pandemic that's actually very good called He's Watching, and we can't help but gleefully shit our collective pants as we dig in to the glorious animal that is The Final Alliance starring David Hasselhoff as a loner leather-wearing martial artist who, along with his pet puma, returns to his small southern town to wipe out an evil biker gang. Yes, folks, that movie exists! And the world is better off for it.
We also fill The Boot Of Remembrance for the legendary Mike Schank of American Movie fame and dip our toes in to several other topics of conversation as well. So soak it all in, laugh, cry, possibly shit your own pants, and then please let us know what you think of the potential new show format!
What a fucking night! Please leave us comments on the YouTube episode page and subscribe while you're there, provide us with a review on iTunes, or be a real stud and do both! All these seemingly small gestures would be greatly appreciated as they let us know exactly what you're thinking about this sweat-soaked tidal wave of hardbodied insanity we like to call The Tuesday Night Cigar Club.
Below is tonight's full episode for both your viewing and listening pleasure. And, if you're in the Austin Tx area, we highly suggest that you toss on some headphones and listen to us while having some tasty drinks at The Bon Aire! It's an amazing bar co-owned by our brother Fritz Beer and it is absolutely the best place to eat, drink, watch sports, and be merry in Central Texas this holiday season.
Thank you for checking out The Tuesday Night Cigar Club and we'll see you next time when we review another cigar, adult beverage, and film. May the wings of liberty never lose a feather…

Podcast: Play in new window | Download (98.6MB)
Subscribe: Apple Podcasts | RSS