WE'RE BACK! Well sort of. After taking almost a month off to do some filming for a future TNCC project (you're going to f'n love it) we fired up the mics tonight for the first time in a while and boy-o-boy did it feel good. I had hoped to get in a few more episodes before the end of 2016 but due to a series of soul crushing evil illnesses that knocked several of us on our asses, this will sadly be the last show until 2017. Luckily for you folks, it's a fun one.
This time last year we sat down in The Corner Of No Hope and spoke with Steve Saka of Dunbarton Tobacco & Trust about Dunbarton's inaugural release, the Sobremesa, which ended up being voted our #1 cigar of of 2015. During that chat, we couldn't help but attempt to pry information out of Steve regarding any future plans he had for a broadleaf cigar release (as hardcore Liga Privada maniacs how could we not?) and he was coy at the time while eventually revealing that perhaps there were some things in the works… Skip ahead twelve months and here we are back at the table with Dunbarton's Mi Querida Ancho Largo in our hands.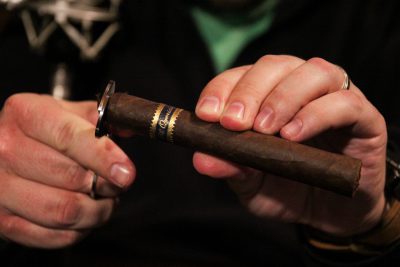 The rustic wrapper has just a slight oiliness to it and is silky smooth to the touch. There is a faint sense of pepper on the cold draw but the note everyone picked up on was sweetness, a raisin-like sweetness to be exact. Upon ignition there is a refined blast of pepper that comes and goes very quickly which is nice. Copious amounts of smoke pour from the foot. After the initial pepper note dissipates it's immediately replaced with a delicious chocolate note with some coffee (think espresso) on the retrohale. The sweetness we all sensed on the cold draw is present as well and it meshes very well with the earthiness present.


Construction is excellent, slightly uneven burn lines quickly corrected themselves, and the draw on all three cigars was spot on. It seems somewhat contradictory to use words like "rustic" and "refined" when describing the same cigar but, nonetheless, these descriptives both apply equally to the Mi Querida.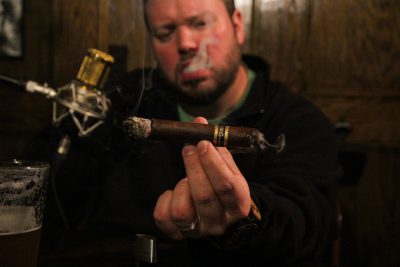 In the second half, the peppery spice comes back which is a very nice surprise while the chocolate, coffee, and earthiness continue to rule the roost. And that was just A-FUCKING-OK with us. We all loved this cigar from start to finish. It's rare in life when one's level of anticipation is rewarded by the long-awaited subject actually exceeding what you had dared hoped that it would be (I'm looking at you The Force Awakens). But Dunbarton has delivered a broadleaf badass with the Mi Querida that is going to make a lot of guys and gals, who prefer their stogies strong but nuanced and most importantly absolutely fucking delicious, very very happy.

Is "Southern Star" a Neil Young song? If not, it should be. And maybe, just maybe, we sing a few lines from this real or imagined song in question on the show tonight… you're just going to have to watch/listen below to soak in that possible awesomeness. Anyhoo, Southern Star Brewing was the first company to can craft beer in Texas. And they didn't just can it, they gave it the widest mouth I've ever seen that didn't have a hook in it!
The Conspiracy Theory IPA is murky and dense when held up to the light but that denseness doesn't carry over to its taste. It's not too light, not too heavy, and there's some nice floral notes present as well. At 60 IBUs it's not overly hoppy at all and if you're smoking a ballsy cigar with some strength to it, this IPA pairs very nicely (although it's worth mentioning that I'd love to pair the Mi Querida with a creamy stout or a cream ale as well, you know, for scientific testing purposes). While we're on the subject of pairing, we talk a bit about Famous Smoke Shop's new "Cigar & Beer Pairing Guide" at the beginning of tonight's show and you can check it out here. Well this beautiful beer out of Conroe TX got three thumbs up from us, so grab a pint and let us know what you think!


The Illuminati… 9/11 Truthers… Chem trails… Area 51… Holy alien shit do we ever tear this film apart in ways only the Tuesday Night Cigar Club can! I'm not going to get into The Conspiracy here, you need to kick back with a stiff drink and watch/listen below. Do it now! But I will say that this Canadian found footage film combines several genres to mixed results; however, especially in today's political climate the movie resonates on many levels and it lead us deep into a myriad of interesting subjects over the course of four hours (you're welcome holiday travelers!). I'd reveal more but I don't want to be added to any watchlists… well any more than I already am.
THE NUB

Well it's been a hell of a year on a lot of fronts and it was really nice to wrap it up with a spectacular cigar, a flavorful beer, and some fantastic conversation. It's what we do! The TNCC will be back on track come the beginning of 2017, so get ready to spend a lot of time with the most entertaining crew of numbnuts this side of the Mississippi.
Please leave us comments on the YouTube episode page, provide us with a review on iTunes, or do both! All these seemingly small gestures would be greatly appreciated as they let us know exactly what you're thinking about this sweat soaked tidal wave of hardbodied insanity we like to call The Tuesday Night Cigar Club.
Below is tonight's full episode for both your viewing and listening pleasure. Thank you for checking out The Tuesday Night Cigar Club and we'll see you next time when we review another cigar, adult beverage, and film. May the wings of liberty never lose a feather…

Podcast: Play in new window | Download (110.4MB)
Subscribe: Apple Podcasts | RSS