Howdy partners! Tonight we get all southern on yo ass as we tackle three subjects that were all born in the beautiful state of TEXAS. Kind of like us. Well technically I was born in Ohio and then relocated to Texas… but don't tell that to the fellas down at the beer hall, I have a reputation to uphold. Now if you'll excuse me I have to begin my daily routine of smoking a brisket while listening to some old George Straight records. Texas!
SIZE: Gordo (6.5 x 60)
WRAPPER: Broadleaf (Lancaster PA)
BINDER: Maduro (confidential)
FILLER: Ligero (Esteli), Viso (Nicaragua), Seco (Jalapa)
PRICE: $10.49
Upon ignition my eyes immediately started watering a bit from the powerful spice, so I'm going to take that as a sign that the "double ligero"'promised to us in the Jacob's Ladder filler blend isn't just marketing horseshit. In fact, it's so strong up front that we all agreed that this would be a perfect cigar to force your underage kid to puff on to get the message about the evils of smoking across to them loud and clear… stupid punk kids and their premium cigars. Oh, wait a minute, punk kids don't smoke premium cigars? Did you hear that FDA?!? Ugh.
There's a sweetness present that reminded us of dried fruit (cranberry perhaps? we narrowed it down to that little brown tasty chunk you find in your trail mix but you can't figure out what the hell it is. now THAT is critical cigar analysis at its finest, folks). While the Jacob's Ladder does punch you in the mouth right out of the gate, it frequently grants you a moment to regain your composure and enjoy that unique sweetness and bold meaty tobacco flavor. Construction is superb but watch out for that heavy ash to drop every inch or so…
Around the halfway point, the strength picks back up again but it's joined this time around by a roasted coffee bean note and some leather. Southern Draw's Robert Holt is showing some real deal blending skills here, especially given the monstrous 60 ring gauge of this dark beast. While it's not an overly complex cigar, the Jacob's Ladder does have frequent and welcome transitions between pure ballsy power and the subtler flavors. As usual, there's more to this cigar than I'm going to go into here on this page so you'll have to watch/listen below to get the full scoop. Hell, at one point we all got a note reminiscent of beef jerky! In the words of the late great Macho Man Randy Savage "Oh yeahhh" – Four Thumbs Up.
FINAL SCORE: 93
This cloudy beer surprised us… in a good way. There's a sweetness from the British crystal malts that's quite nice where as usually that easily discernible malty sweetness brings on dreary thoughts in my head such as "Oh dammit to hell, I'm going to get sick of that taste before this pint glass is empty". The Pine Belt Pale Ale played just enough with its hop blend to satisfy IPA guys like myself but they were subdued enough (and gelled with the malts just right) that a non-hop head like Tut found it delicious as well. And, for the record Brothers and Sisters Of The Leaf, this beer will pair BEAUTIFULLY with any bold powerhouse ligero-heavy cigar you want to throw at it.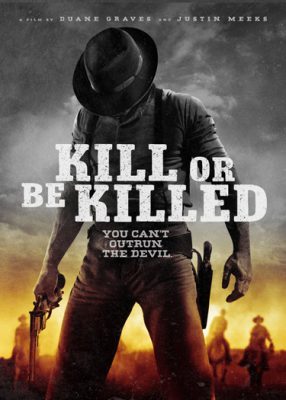 I've said it a million times, while I'm not a huge fan of the western genre I do really like discussing them on our show. For whatever reason they bring out the best in us. And to add some more spice to this pot of chili, we bring in the cinematographer of tonight's film Mr. Brandon Torres for a lengthy interview at the conclusion of the episode!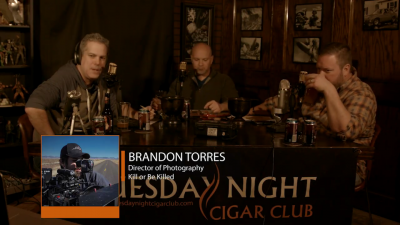 Brandon takes us behind the scenes of this indie Texas western and offers us some unique insight into the making of Kill Or Be Killed. As for what we thought of the film itself, well, you know the drill, stop your bellyaching and watch or listen to the damn show below! Trust me you yellow-bellied bootlickers, I reckon you'll be glad you did.
I shit you not, cowpokes, this is one of my favorite episodes we've ever done. It's funny as hell, topical, educational, and at times it's damn near insightful. If you have a friend who's curious to try us out for the first time, this would be a great introduction to the show. So what are you waiting for, saddle up and join the party below! And please remember, never squat with your spurs on.
Please leave us comments on the YouTube episode page, provide us with a review on iTunes, or be a real stud and do both! All these seemingly small gestures would be greatly appreciated as they let us know exactly what you're thinking about this sweat soaked tidal wave of hardbodied insanity we like to call The Tuesday Night Cigar Club.
Below is tonight's full episode for both your viewing and listening pleasure. Thank you for checking out The Tuesday Night Cigar Club and we'll see you next time when we review another cigar, adult beverage, and film. May the wings of liberty never lose a feather…
Podcast: Play in new window | Download (95.5MB)
Subscribe: Apple Podcasts | RSS