If a favored pastime of the Tuesday Night Cigar Club involves the discussing of films whilst puffing away, then of course there positively must be a review of a movie concerning that most famous of cigar smokers, the inimitable Sir Winston Leonard Spencer Churchill. Darkest Hour, starring an unrecognizable Gary Oldman as the man himself, had been released at The Doctor's local multiplex. Cold weather had descended upon the environs of north Texas, so I was effortlessly able to conceal my usual flask of Bombay Sapphire Dry Gin within the many folds of my coat as I purchased my ticket and buttered my popcorn.
First and foremost, Darkest Hour is not a war movie but rather the story of the days and nights of a man during the most pivotal stage of his life and that of the life of his nation. May of 1940 was indeed a time of dark foreboding for England; in TNCC terms, the Brits were hurdling up shit creek without a paddle. Having previously conquered Czechoslovakia and Poland, the Nazis had invaded Belgium and then France, crushing any resistance they faced. If France should fall, taking with it the British Expeditionary Force, an invasion of England would be imminent. Having employed a policy of appeasement – which basically meant giving Hitler whatever he wanted – British Prime Minister Neville Chamberlain had lost the confidence of Parliament and was, more or less, forced to resign as PM. Who would be an acceptable candidate to form a coalition government alongside the opposition party? More importantly, given the catastrophic maelstrom he would be inheriting, who in the hell would want the damned job? Not the wily Viscount Halifax (Stephen Dillane) who recognizes the job as a no-win situation. Halifax even dances around the subject when pressed by His Majesty King George VI, played here with a reserved sophistication by Ben Mendolsohn, who filmgoers will recognize as Commander Krennic from Rogue One: A Star Wars Story. Thereupon the job falls to Churchill, a then sixty-five-year old man with a trail of career mishaps behind him and a reputation as a drunkard. Hey, I have something in common with Churchill! Other than a penchant for cigars, the similarities end there. Dammit.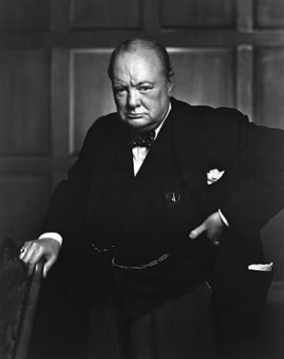 This specific time and place is what so fascinated screenwriter Anthony McCarten, to the point that he wrote a companion book about the events. How did a man facing this situation, doubted by more than a few and outright disparaged by others, come to write and deliver some of the most stirring, passionate, and famous speeches of all time mere weeks after inheriting the most important job in his country? That is the crux of Darkest Hour. If you are looking for battlefield re-enactments, you will not find them. See the equally wonderful Dunkirk instead. Darkest Hour is about Winston Churchill's life from the moment he assumes office on May 10th of 1940 until he delivers his rousing "We shall never surrender" speech to Parliament at the end of that month. It is a drama not unlike a stage play, a peek at what made the man tick and how he conducted his days, and even if the historical backdrop isn't something that you find enthralling, it is still impossible to watch Darkest Hour and not appreciate the performance of the aforementioned Gary Oldman.
These days it is something of a cliché to call Gary Oldman a great actor, so oft-spoken is such a statement. Hell, view anything he has acted in for proof. Some of The Doctor's choice earlier examples would be the 1990 film State of Grace with Sean Penn and Ed Harris, or the 1994 film Leon: The Professional with Jean Reno and a teen-aged Natalie Portman. In Darkest Hour, one must certainly credit the make-up department for metamorphosing the normally thin Oldman into the portly and jowly Churchill, but the performance is all due to the actor himself and is nothing short of breathtaking. The voice and mannerisms from what we now know of Churchill are entirely faithful, but capturing the nuances of this man as he copes with the ordeal biting at his nerves is something that only the finest of performers could possibly hope to deliver. Churchill in May of 1940 was a man on a precipice, plagued with more than a touch of self-doubt about where to take his nation. The appeasers, led by Halifax, want to pursue a negotiated peace with Germany by reaching out to Mussolini as an intermediary, and Halifax is prepared to resign and force a no-confidence vote if Churchill will not at least consider this alternative to fighting. With the French armies on the verge of being routed and the BEF falling back on the beaches of Dunkirk and needing an immediate – and improbable – evacuation, Churchill is forced to spend many a fitful night pondering his alternatives. Oldman's performance gives the viewer a front row seat to Churchill's struggles and triumphs, garnering empathy every step of the way. Of course, he does so while smoking cigars, which we all know gives an advantage to a man mired in the depths of consternation. At one point, when his wife Clementine – played brilliantly by the lovely Kristin Scott Thomas – suggests that their finances are in the toilet, Churchill says offhand that he will cut down to 4 cigars per day!
All movies take liberties, even the seemingly more legitimate productions that play a two-week stint in the hipster arthouses before graduating to a wider release in the suburban cineplexes. But for the most part, Darkest Hour is faithful to history and Churchill's reputation and his genius. The film is a testament to Churchill in his earliest days as Britain's savior while simultaneously serving as a testament to Gary Oldman in perhaps the penultimate performance in his storied career. And maybe, just maybe, Darkest Hour is the story of how a man who smokes cigars and drinks all day will always prevail over fascists and Nazis. At least I like to think so. I urge you to see Darkest Hour. Be prepared to then feel an overwhelming desire to sequester yourself in your favorite spot with a glass of whiskey and a fine cigar. As always, The Doctor wishes you all a clean bill of health.
Appendix: Instructions for making a martini, Winston Churchill-style:
1. Chill a cocktail glass; light cigar (preferably your favorite Churchill size)
2. Spear an olive with a toothpick
3. Pour gin into cocktail glass and garnish drink with olive
4. In place of vermouth, wave glass in general direction of France (or Italy, who cares)
5. Consume; repeat as needed
"I have taken more out of alcohol than alcohol has taken out of me." Winston Churchill