Cigar: Nomad Therapy Habano Toro (6×50)
Company: Nomad Cigar Company
Wrapper: Habano Rosado Ecuador
Binder: Habano Jalapa
Filler: Nicaraguan
Strength: Medium
Price: $7.49
Cigars Smoked For Review: 1
Acquired: Samples submitted by Fred Rewey of Nomad Cigar Company (@Godfadr)
Elements: Corner of No Hope / Green Room IPA from Uncle Billy's Brewery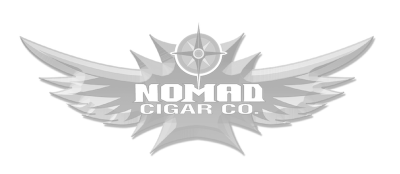 A shiny, slightly oily, light brown milk chocolate colored Habano wrapper greets you upon removing the cellophane. There's hay, grass, and sweet maple syrup on the prelight sniff. The cigar has a little give to it upon gently squeezing it between my fingertips, reminds me of a girl I took to the 8th grade dance… only this time I'm not slapped and left crying out behind the school dumpster as I watched those glorious Guess jeans walk out of my life forever…


There's smooth air flow after clipping the cigar with scissors and a very noticeable sweetness when pulling on the prelight draw.
1/3

A slight black pepper spice starts things off and almost immediately dissolves into a graham cracker note. This graham cracker flavor has the run of the place for the first inch and a half before a milk chocolate note (very Dove chocolate like) seamlessly works its way in. There's also a saltiness that's accompanied the milk chocolate, it's unique and I like it quite a bit. The Therapy Maduro (reviewed here) featured a woodsy profile, dominated by oak, and I'm not picking up on anything similar to that here.
2/3

Entering the middle portion of the cigar and the ash is holding on tight like a bad trapeze artist. I was momentarily worried that there was too much air coming in through the draw but that seems to have resolved itself quickly. The salty milk chocolate is still there and a cedar note has joined it replacing the graham cracker flavor which has bid us farewell. I'd put this Therapy just barely on the mild side of medium at this point. The ash falls and the I notice that the burn line is perfectly straight, like spooky straight all the way around.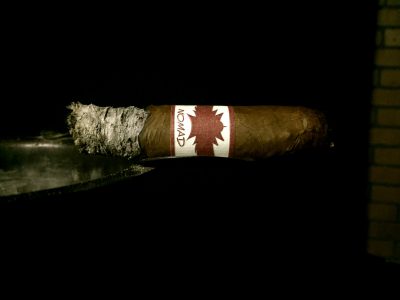 The saltiness starts to dissipate and it's replaced by brief flourishes of that black pepper spice from the very beginning. So milk chocolate, cedar, and spice is where we are at now as we wind down the second third of the cigar. And something else I can't quite put my finger on… either my ability to discern flavors on my palate is failing me once again or my heads still wrapped around that image of those goddamn Guess jeans sashaying away from me under the moonlight while Crowded House's "Don't Dream It's Over" leaked out from the auditorium doors… Well, luckily for me this stogie isn't over so let's see how she finishes.
3/3

The final third is heavy on the milk chocolate and cedar. This is a much more tamed Therapy session compared to my first, I'm not yelling about my childhood and crying about all the injustices thrust upon me over the years. I'm just ENJOYING the hell out of it, which sometimes happens during a good couch session. You leave your appointment with the Nomad Therapy Habano relaxed, emotionally centered, and prepared to face the rest of your day without a homicidal glaze in your eyes.
THE NUB

While they may not receive the same level of acclaim as the more popular lines in the Nomad portfolio, I'm fast becoming a Therapy fan. And I'm also becoming a firm believer in that, for whatever reason, the more cigars you sample in each Nomad line the more you're able to pick up on their complexity and nuances. Sometimes stogies are like actual therapy, you put in the hard work and you're sometimes rewarded immensely. That's right, I just referred to smoking stogies as hard work… and now I'll sit here and wait for that sassy girl in the Guess jeans to show up and slap the shit out of me again. Only this time I'll deserve it. I recommend you pick up a fiver of the Nomad Therapy Habano and see for yourself.
As I sat down to write my recent rant on the upcoming FDA cigar regulations, I had smaller boutique companies such as Nomad, RoMa Craft, Black Label Trading Company, and Southern Draw on my mind (and many others). These are the companies in great danger of being squashed needlessly and unjustly under by our government's perverse and misguided overreach. I encourage everyone reading this to sign the petition that's focused on protecting these newer labels, join the CRA and support their efforts, and make your voice heard to your ELECTED officials. This fight isn't over and everyone's help and contributions are needed. May the wings of liberty never lose a feather.