When The Doctor informed me that he recently watched the new Tom Cruise film The Mummy and felt compelled to write an upcoming review, well it inspired me to dig through the remaining Tatuaje Skinny Monsters in my humidor and resume our legendary Monster Series of film/cigar reviews.
Cigar: Skinny Mummy (7 1/2 x 38)
Company: Tatuaje
Wrapper: Nicaraguan Sun Grown Criollo
Binder: Nicaragua
Filler: Nicaragua
Price: $8
Acquired: Famous Smoke Shop
Elements: Corner Of No Hope / a big fucking bottle of Pinot Noir
Sweet tobacco and a hay aroma are present when sniffing the foot of the Skinny Mummy. The cigar features a very veiny, vascular wrapper that seems to be filled just right as there's minimal give when squeezed. The cold draw revealed a slight spice and airflow is a bit tight… to be continued.
1/3
Upon setting fire to the cigar, that slight spice hinted at on the cold draw is now a nose-tingling burning spice that stings the nostrils. Not that that's a bad thing. Leather is the dominating flavor early on with a French roast coffee note floating underneath it. Dare I say some creaminess comes into play towards the end of the first third. Dare I?
2/3
Yes, there is creaminess! That'll teach you to dare me, asshole. The ash drops immediately once we begin the second third, overall construction is good but that ash never seems to hang on for very long around the halfway point so you (and your lap) have been warned. The leather note and cream rule the middle section of the Skinny Mummy. The brief appearance of the coffee note has vanished… was the actual Mummy able to vanish into thin air? How did he come and go from his tomb at the museum? As a diehard horror fan, why haven't I watched a single Mummy movie in my entire life? Wasn't The Fucking Rock in one of these things with a mullet? So many questions…
3/3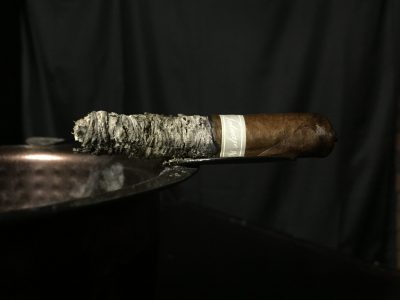 Man, you boys better run home and call your mummys because this cigar really comes through in the final act! The leather, spice, and cream become completely harmonious and the ash suddenly decides to stick around to honor that perfectly straight burn line. I liked this cigar just fine but now I'm really digging it. Did y'all dig my mummy pun? Get it, DIG, like an archeologist… ok ok, I better wrap this up.
THE NUB
"WRAP this up", get it?!? Like a mummy is wrapped… ugh. I'm so sorry. Look, having burned through almost all of the Skinny Monsters at this point I can confidently say that while they are not the most complex cigar by any means they are more often than not enjoyable if their limited profile suits your palate on any given evening. And if the stogie isn't speaking your language, get yourself a gigantic fucking bottle of red wine to help translate. I can't say this enough – booze is the answer to all of life's problems. Now I better finish this up before my review begins to unravel… That's a wrap!