Cigar: Velvet Rat (6.25 x 46)
Company: Drew Estate
Wrapper: Connecticut Broadleaf Mediums
Binder: Plantation Grown Brazilian Mata Fina
Filler: Honduras and Nicaragua
Price: $14 if you can find it… which you won't be able to.
Acquired: Submitted to TNCC by the Drew Diplomat program (2015)
Elements: Corner Of No Hope / Hans Pils by Real Ale Brewing Company
Any one who has listened to the podcast with any regularity will know that I am a big fan of Drew Estate's Liga Privada line of cigars. But the majority of their rare and super elusive Unico Serie have alluded me over the years and not for a lack of effort (unlike 22 inch biceps, a decent salaried job, a thick voluminous mustache, and other things that I haven't put the necessary effort into obtaining. BUT I'm still relatively young so let's not count anything out, especially that fucking mustache!). I remember reading interviews with Steve Saka and Nicholas Melillo on the Halfwheel website where they dropped adjectives like "creamy" and "smooth like velvet" when referring to this particular blend and my palate started tingling with anticipation as well as my… HEY NOW! If anything else began tingling now is not the time nor the place to discuss it.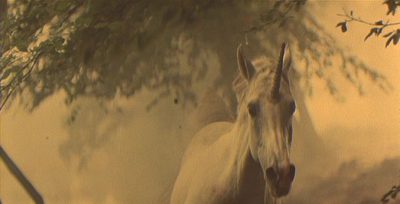 The elusive Velvet Rat has been on of my wish list of "unicorns" for years. The term unicorn in the cigar world refers to a cigar that is so hard to find that you begin to think they may not actually exist. I finally captured this horny mythological creature several months ago with my NET GUN but I've been waiting patiently to smoke it on just the right occasion. With the birth of my beautiful daughter a few weeks ago I could finally justify pulling this cigar from the dark back corner of its humidor (I had to hide it from myself so I wouldn't be tempted every time I reached in for a stick) and ceremoniously set it on fire. Ahh sweet awesome net guns… if only…

The draw on the Velvet Rat is acceptable after twisting off the attractive cap but I go ahead and snip just a tad bit more off with the scissors to open up the airflow completely. There's a dark chocolate aroma off the prelight sniff and just the right amount of give when the cigar is gently squeezed in the middle.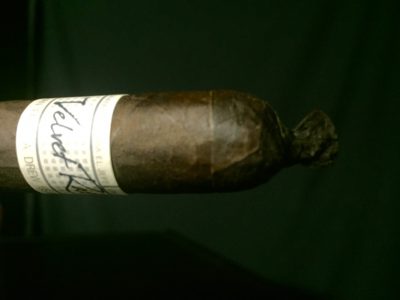 1/3
There's no spice here at all, which seems to be all the rage these days upon lighting up a premium cigar, just a strong amazing chocolate note and an ungodly amount of smoke production that could easily signal a rescue plane if I was trapped on a deserted island. But if I was trapped on a quiet peaceful island with a stash of CIGARS would I really want to be rescued? No, the answer is no. NO.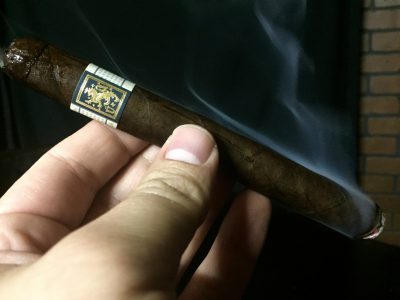 The chocolate note here is more of a rich chocolate cake sensation as opposed to the usual baking chocolate flavor I've experienced in cigars prior. Strength wise it seems to be medium in the early goings, the Velvet Rat may look like a skinny Liga Privada 9 (it is technically a lonsdale vitola) and produce smoke like a Liga Privada 9 but so far that's where the similarities end. This cigar is far more airy and delicate on your senses.


Construction is fantastic with a solid ash and a fairly straight burn line. Towards the end of the first third the profile changes towards more of a lighter milk chocolate note with just a hint of coffee beans.
2/3 & 3/3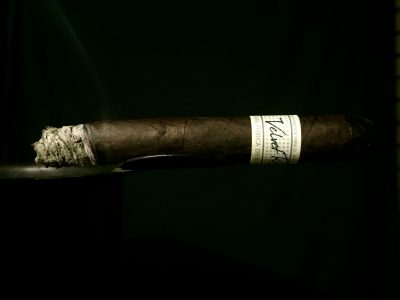 The strength has kicked up a notch and the coffee note has taken the wheel. While there is still a definite essence of chocolate present, the predominant flavors now are dark roasted coffee and oak. Perhaps I spoke too soon on the Velvet Rat being so different from its Liga relatives… The cigar is burning quickly but, thankfully, it's not burning hot to the lips at all. Espresso and oak balance against each other expertly as these flavors dominate the remainder of the cigar. "Espresso & Oak" that could've been the name of a great detective show in the 1980s*. The second two thirds are vastly different than that unique chocolaty opening number but the familiar song they're singing is one I'm very familiar with as it's one of my favorite tunes.

THE NUB
It's been my personal experience that the Liga Privada family isn't particularly known for its overall complexity and that's perfectly ok. What they offer in the flavor department is exceptionally unique and it happens to fit my palate like a smooth velvety glove. While I wish that the notes present in the first third of the Velvet Rat had stuck around longer for sure, perhaps there's another rare Liga that showcases those flavors more and I just haven't been lucky enough to unearth it yet. This entry to the Unico family will be a welcome one in my humidor assuming I can ever discover one again. I'm like the Indiana Jones of cigars! Yeah, I'm exactly like that.


* "Espresso & Oak" © 2016 Tuesday Night Cigar Club