I've always been a huge fan of the Friday The 13th film series. While Halloween is by far my favorite horror franchise of them all, I've been a devoted fanboy of Jason Voorhees and his crazy Crystal Lake hijinks almost all of my life. My Uncle Dave introduced me to the films when I was just a preteen as his favorite local late night Cleveland TV program "The Big Chuck & Little John Show" would occasionally show Friday The 13th: Part 3, so over greasy slices of pepperoni pizza and the smell of my uncle's candela Grenadier cigar I became HOOKED on the mayhem I was witnessing on the television screen. I was also hooked on the notion of eating greasy pepperoni pizza at midnight and smoking cigars til dawn but I'm guessing as an avid listener of the podcast you've picked up on that already…
Well skip ahead 30 years and I've actually gone on to make a feature horror film and my love affair with Michael, Jason, and Leatherface is still going strong. While promoting my film Underbelly at a horror convention, I found myself nice and hammered at a late night party (imagine that) when I suddenly stumbled my way right into in a brutally tight headlock supplied by no other than Kane Hodder, the actor/stuntman who would play Jason Voorhees in tonight's film and three other F13 entries. What a night! It was one of those full-circle life moments, I can't help but think how 7-year-old Cade would have thought that getting strangled by Jason was the coolest thing in the world. And after I regained feeling in my neck and changed into a fresh pair of underpants, I thought it was pretty damn cool too. I guess what I'm trying to say is that I can't believe we haven't featured a Friday The 13th film on the podcast yet. We rectify that situation on tonight's episode and I think you'll be glad we did, it's a great show! Until The Doctor starts singing Prince songs a cappella and then all bets are off obviously…
Also, as promised, this episode marks the first time that you have the option to WATCH the full show on our YouTube channel or via the embed below! We've been told over and over again that our handsome visages are a huge selling point that we haven't been capitalizing on, so moving forward you'll be able to WATCH every episode on your favorite electronic device. Just don't watch us while you're sitting on the can… that'd be weird.

The aroma coming off this cigar is amazing!!! Sorry, I'm getting ahead of myself. Much like Jason Voorhees leaving his comfy familiar confines of Camp Crystal Lake for Manhattan, Cohiba has finally ventured out from its Dominican Republic stomping grounds to explore and experiment with Nicaraguan tobaccos. The result is an oily, complex, smokestack of a cigar they've aptly named the Cohiba Nicaragua. Going in to tonight's show, I was weary of handing this cigar over to Tut as I'm well aware of his prejudice against large ring gauge cigars. In his own words, holding a bulky monster stogie in his hand brings about feelings of "sadness and inadequacy". Luckily, the rest of the TNCC crew is secure enough in our masculinity to smoke a big hefty cigar without developing an inferiority complex so we all lit them up with open minds. I actually enjoy and keep many 60 ring gauge cigars stocked in my humidor (My Uzi Weighs A Ton, Antaño 1970 Gran Consul). I've found that, like all cigars, whether it delivers or not always comes down to the talent of the team blending it.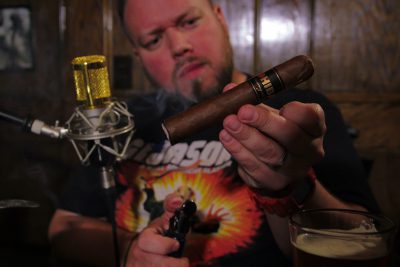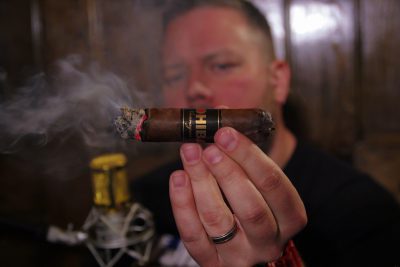 As I mentioned earlier the aroma pouring off the Cohiba Nicaragua is fantastic, filling the Corner Of No Hope with… hope? We all experienced a medium spice initially upon ignition that quickly receded into the background but that pepper spice frequently emerged time and time again throughout the duration of the cigar (2+ hours!) which kept things interesting. I immediately sensed a really nice cream flavor in the early goings, while Cody picked up on notes of cappuccino and chocolate. Other flavors the crew experienced at different stages of the smoke were cedar, leather, and that revolving cream and spice that played off each other very well. This is a case where the size certainly seems to benefit the blend.


The Cohiba Nicaragua had an open draw and it the wrapper maintained its integrity with no issues. We did need to conduct occasional maintenance with our lighters but I've learned that's to be expected on a cigar this size, especially with how much we engage in conversation between puffs so I don't view it as a big deal. This was by far the longest smoking cigar we've reviewed on The Tuesday Night Cigar Club and I think that goes a long way, along with the multitude of flavor transitions present, towards justifying the price tag. Head on over to Famous Smoke Shop and grab yourself a single or a fiver and let us know what you think!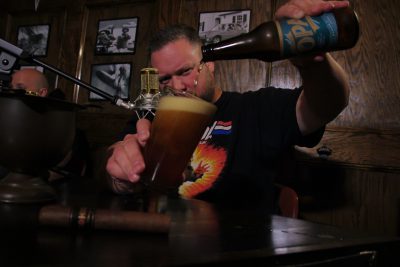 Oatmeal and hops are two flavors that you just don't think of going together. The OPA is an easy drinking American style pale ale that combines these two ingredients and it's absolutely DELICIOUS. While the hops are not super in-your-face they are very present and at 32 IBU (that number seems low to me) you get to really taste the unique flavors of the Centennial and Amarillo hops without all the burn. And it looked beautiful as it filled the Boot Of Remembrance…
Floral and citrus notes are definitely more present than any of the oatmeal infused into the OPA, so unfortunately drinking a six pack of this beer will NOT fulfill your daily whole grain needs. Dammit. This is one of the best fucking beers we've showcased on the show in quite a while. Seek it out!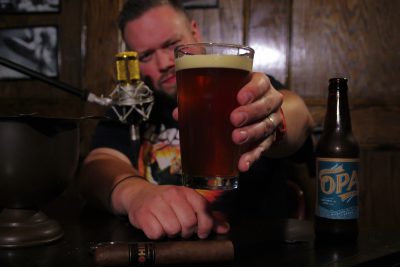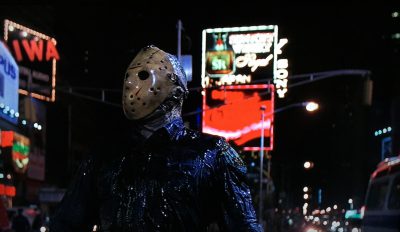 To say this eighth entry in the Friday The 13th series is lacking would be a major understatement. It lacks the gore and inventive blood-splattered kills that we've come to expect from Jason Voorhees. It lacks a significant number of horny frightened teenagers. It also severely lacks actual footage filmed in New York City and for a movie subtitled "Jason Takes Manhattan" that's a big problemo.
As always, I'm going to insist you listen or WATCH the podcast below to get our full take on this slasher oddity that had so much promise but just failed to deliver on nearly every conceivable level. I say "nearly" because there is one bright shining star in this cinematic shitfest. His name is Peter Mark Richman and he plays high school principal Charles McCulloch.
Without McCulloch this movie would be damn near unwatchable. He's such a judgmental condescending prick that you can't help but smile every time he arches his brow and opens his smarmy mouth. He literally criticizes everyone regarding everything throughout the entire film and it's hysterical.
We have a lot of fun imitating the McCulloch character throughout the night and hopefully you'll find yourselves talking like him as well next time someone or something disappoints you as much as this film disappointed us. If you're going to make a Friday The 13th film called "Jason Takes Manhattan" you could at least shoot more than ten minutes of footage in the Big Apple! Seriously, this movie would have had so much promise if it had delivered on the NYC theme and it saddens the TNCC that it just wasn't meant to be. So kick back and lament with us as you pour yourself a stiff drink and listen to or WATCH the show below. While you do that, I'll be consumed with tracking down all of Mr. Richman's guest spots on the classic nighttime soap Dynasty. Those suckers have to be pure gold baby!

THE NUB

I'm going to cut this short and politely ask that you just click the play button below and WATCH tonight's episode!

Pleave us comments on the YouTube episode page, provide us with a review on iTunes, or do both! All these seemingly small gestures would be greatly appreciated as they let us know exactly what you're thinking about this circus of pure batshit insanity we like to call The Tuesday Night Cigar Club.
Podcast: Play in new window | Download (326.2MB)
Subscribe: Apple Podcasts | RSS
Thank you for checking out The Tuesday Night Cigar Club and we'll see you next time when we review another cigar, adult beverage, and film. May the wings of liberty never lose a feather…