Looking back over the last four and a half years, hundreds upon hundreds of hours of content (especially watching some of the really early stuff), I couldn't help but think that despite our lack of natural ability, we certainly possessed the one crucial aspect to all early creative endeavors – naïveté. Steve Martin in his autobiography Born Standing Up calls it "That fabulous quality that keeps you from knowing just how unsuited you are for what you are about to do… Thankfully, perseverance is a great substitute for talent." Well we certainly have persevered, WE'RE STILL HERE MOTHERFUCKERS, so welcome everybody to the Tuesday Night Cigar Club episode 100! Hopefully we've made your long car rides go by a little quicker, maybe we've made you laugh a little when your home alone on a Saturday night, in whatever way our unique brand of humor and blatant disregard for responsible drinking has found a way into your life, we appreciate you for letting us in, over and over again. If we can bring you an entertaining story and a few smiles when you're not getting smiles from anywhere else, we've done our jobs. It's like David Lee Roth once said, "The reason I'm so funny is because I ain't even vaguely happy." Amen, Diamond Dave, amen.
But first, sadly, before the party begins there is some other business that must be taken care of…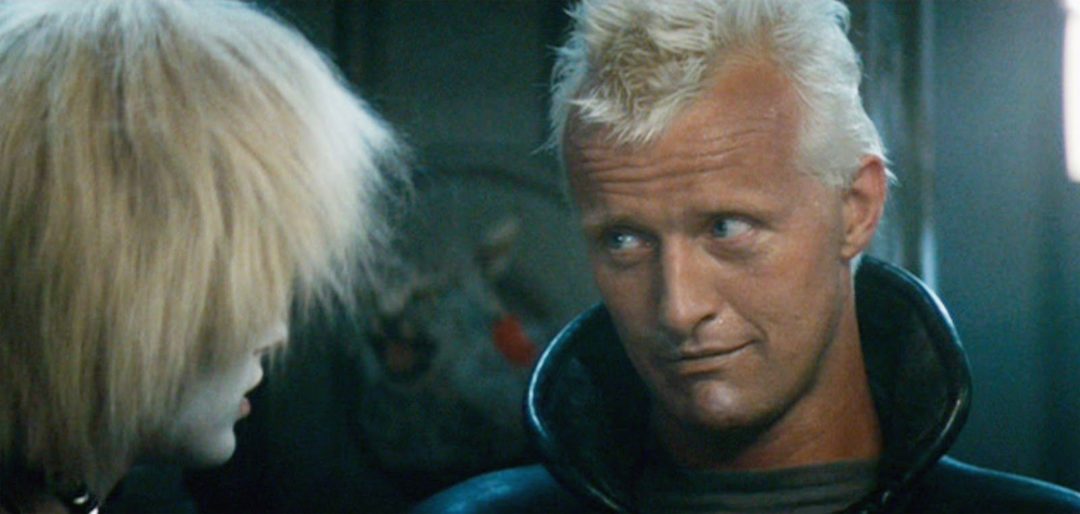 When Tut texted me last week to tell me that Rutger Hauer had passed away and did we want to fill "The Boot Of Remembrance" for him, a flood of movies began flashing through my mind:
Nighthawks
Blade Runner
The Hitcher
Ladyhawke
Surviving The Game
Wanted: Dead or Alive
Escape From Sobibor
Blind Fury
Buffy The Vampire Slayer
Hobo With A Shotgun
And the list goes on and on and on and on… So yeah, there was obviously no question as to if Mr. Hauer was Boot worthy or not. Known as much for his workhorse like production (173 acting credits!) as his Matt Cade-esque steel blue eyes, Rutger Hauer lit up the fucking screen every time he was on it and he was the rarest of things – a strikingly handsome oddball. He added a quirk, a unique touch, to every character he painted on screen and we loved him for it. On July 19th, he passed away at the age of 75 in his birthplace of The Netherlands and tonight, August 1st, we filled The Boot of Remembrance and chugged it down in his honor. Please watch or listen to the show below to hear our favorite memories of this true cinematic legend…
Size: 7 1/4 x 54 (Churchill)
Wrapper: Ecuadoran Sumatra
Binder: USA/Connecticut Broadleaf
Filler: Honduran Jamastran (2011 crop), Honduran La Entrada (2011 crop), Honduran OSA (2002 crop), Nicaraguan Estelí (2011 crop), Nicaraguan Estelí (2014 crop), and Dominican Piloto Cubano (1995 crop)
Price: $90.00
The Spectre blend features eight different varietals of tobacco originating from five different countries, some of which have been aged in Spanish Sherry barrels to add more complexity. And get this, the Dominican Piloto Cubano leaf has been aged in tercios – which is a method of aging tobacco by using the leaves of a royal palm tree – since it was harvested in 1995! And get this -a single pair of just one roller and one buncher are responsible for every Spectre made and both are renowned for their expertise with combined experience spanning nearly five decades. Although the Spectre was originally limited to just 180 boxes of 10 when it was released last year, that's a mere 1800 cigars total made, once those sold out an unspecified additional amount were produced this year. But these cigars that we are about to smoke are from that first batch, out of 1800 cigars we got 5 of them. Any questions? Other than how did we assholes get them?
Everyone almost unanimously picked up on a grassy flavor reminiscent of fresh cut hay and a distinct dried fruit-like sweetness on the cold draw of tonight's very impressive looking cigar that might be due to the aging of some tobaccos in Spanish sherry barrels. The Cohiba Spectre is packed firmly and exudes a wonderful aroma upon setting fire to the foot. In fact, construction is absolute perfection throughout the smoking experience (long solid ashes and smooth ideal draws) which is probably a good thing as there's only two dudes in the factory rolling these suckers so if there were any issues it'd be easy to point fingers. Early on the Spectre is just below medium in strength with a highly recognizable leather note and tingly black pepper through the nose. Tut also got a reoccurring flavor of butter on the retrohale but sadly the rest of us missed out on that completely. Dammit.
The Doctor picked up a faint vanilla bean note that a few others could agree with as well and other than that along with the constant leather and a bit of earthiness… that's about it folks. And that might very well make for the blending of a very enjoyable cigar for certain but when the price tag is nearing $100 per stick the entire table had a hard time wrapping our heads around this one at the end of the night. Especially considering how many damn aged tobaccos from different countries this cigar featured, we were expecting a rollercoaster medley of flavors and it ended up being a teacup ride in the kiddy section of the amusement park. Having said that, the aroma that poured off of the Cohiba Spectre is one of the best smells we've ever had drift up our noses in four and a half years of reviewing cigars.
Tonight we drink two separate offerings, closing the evening with the Oskar Blues G'Knight which we unanimously agreed is one of our all time favorite beers that we discovered on the podcast, way back on Episode 70. But first up at a mild 7.2% and a harmless 65 IBUs to those weirdos adverse to the beauty of glorious bitter hops, the Centennial IPA is not a beer that will ever clash with a cigar regardless of the stogie's blend or strength.
A very pleasant floral aroma drifts up the nose when smelling the freshly poured pint of Founder's Centennial IPA. The lack of noticeable hop bite seems somewhat disjointed with their claim of 65 IBUs but what do we know… we've only been nationally recognized beer experts for oh say 100 episodes now. Regardless, it is refreshing and stone cold delicious. Want to know just how smooth the Centennial IPA goes down the hatch? Our boy Tut chugged the Boot Of Remembrance filled with the beer to honor the late great Rutger Hauer with total ease.
We finished the night off with a pint of one of our favorite beers ever featured (briefly) on the show, the G'Knight from Oskar Blues . As you can tell from our reactions on the show, it is still one the best beers available in America so you'd be a damn fool to not track some down.
Director Rafal Zielinski returns to direct after helming the original, groundbreaking classic Screwballs in 1983. A lot of even the most serious hardcore cinephiles out there don't realize that this was not the final chapter in the Screwballs odyssey, Screwball Hotel also directed by Rafal Zielinski came out in 1988 but it's MIA unfortunately…
While most of us had only scene tonight's movie back as kids on the USA channel's "Up All Night" program hosted by the delectable Rhonda Shear, which turned out to be around a 20 minute movie with all the tits and ass edited out, we mostly came into Loose Screws with fresh eyes and eager hearts. Look, we could've gone a million different routes in selecting the film for our big 100th episode but it just made perfect sense to me to pick a flick that encapsulated everything we're about, everything we've been about, and was perfectly conducive to having some fun and JUST PARTYING.
It goes without saying that you need to watch or listen to the show below to join in the party, we do what we do best in that we dissect this masterpiece and give it the full TNCC treatment like no other group of numbnuts ever possibly could. I'm very proud of our film analysis, as always, but this movie just felt like it was made for us.
Please leave us comments on the YouTube episode page, provide us with a review on iTunes, or be a real stud and do both! All these seemingly small gestures would be greatly appreciated as they let us know exactly what you're thinking about this sweat soaked tidal wave of hardbodied insanity we like to call The Tuesday Night Cigar Club.
Below is tonight's full episode for both your viewing and listening pleasure. Thank you for checking out The Tuesday Night Cigar Club and we'll see you next time when we review another cigar, adult beverage, and film. May the wings of liberty never lose a feather…
Podcast: Play in new window | Download (76.6MB)
Subscribe: Apple Podcasts | RSS