New year, new episode, and we're attacking 2020 with everything we've got! And I have to say it, this is a really fun show that kicks things off beautifully. After our holiday gift exchange which you don't want to miss (the guys basically shit all over my heartfelt presents), some cigar industry talk regarding this year's PCA trade show (let the record show that we pulled out first), we shatter a beer bottle (oops), and then we get down to doing what we do best – getting drunk and talking. You'll laugh, you'll cry, and maybe just maybe you'll learn a little something. Yes folks, we tackle the big existential question tonight that's on everyone's mind – "What the fuck is clam dip?"
SO WATCH OR LISTEN TO THE SHOW BELOW AND JOIN THE PARTY!!!!!
Size: 6 x 52 (toro)
Wrapper: Brazilian Cubra
Binder: Nicaragua
Filler: Brazil
Price: $10.99 (Famous Smoke Shop currently has boxes of them on sale for $197.99 and if you apply promo code TNCC20 that knocks $20 off bringing it down to $8.89 a stick!)
The CAO Amazon Series is a limited release item that comes from CAO and General Cigar Company using a tobacco from deep within the Amazon rainforest (the Bragança region) that is only harvested every few years. This tobacco is unique in that where most cigar tobacco is grown in large fields, in neat tidy rows, this stuff is planted all over the area wherever sunlight happens to hit through the trees. The tobacco is then fermented in the jungle and taken by canoe to the factory which in all – just to get the leaves to the factory – is a six week process. By canoe! The presentation of the Amazon Basin Orellana is outstanding as it brilliantly uses wound up tobacco leaves resembling vines to decorate the outside of the wrapper which features a cold draw that revealed nuts, some chocolate, and a raisin like sweetness. That's a promising start before we've even set fire to the foot.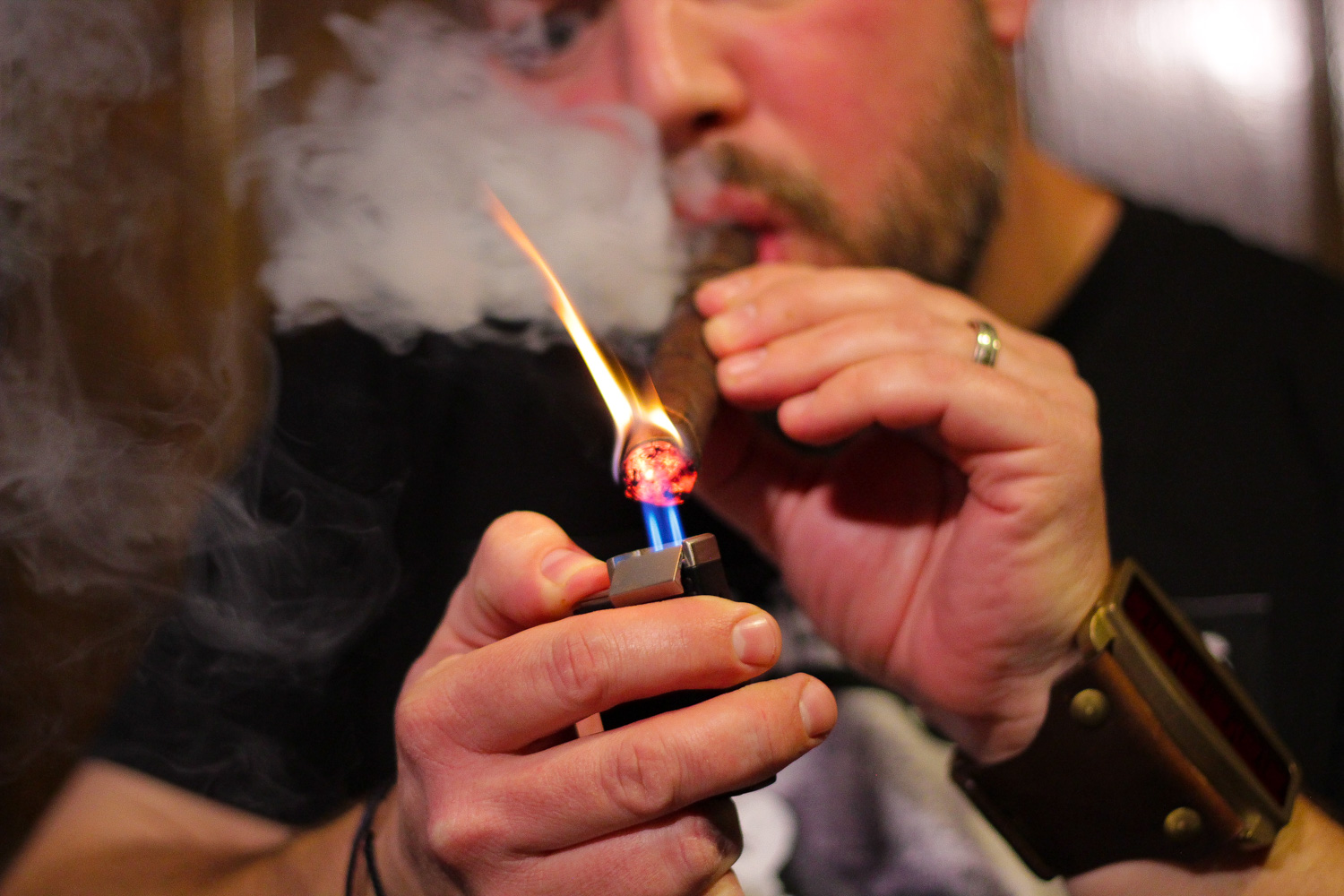 This cool looking, unique as hell, rustic cigar features strong pepper spice on the nose with Nicaraguan mineral earthiness and chocolate on the draw. It's a dark, earthy cigar and the smoke just pours off the foot traveling its way seductively up the body as you puff along.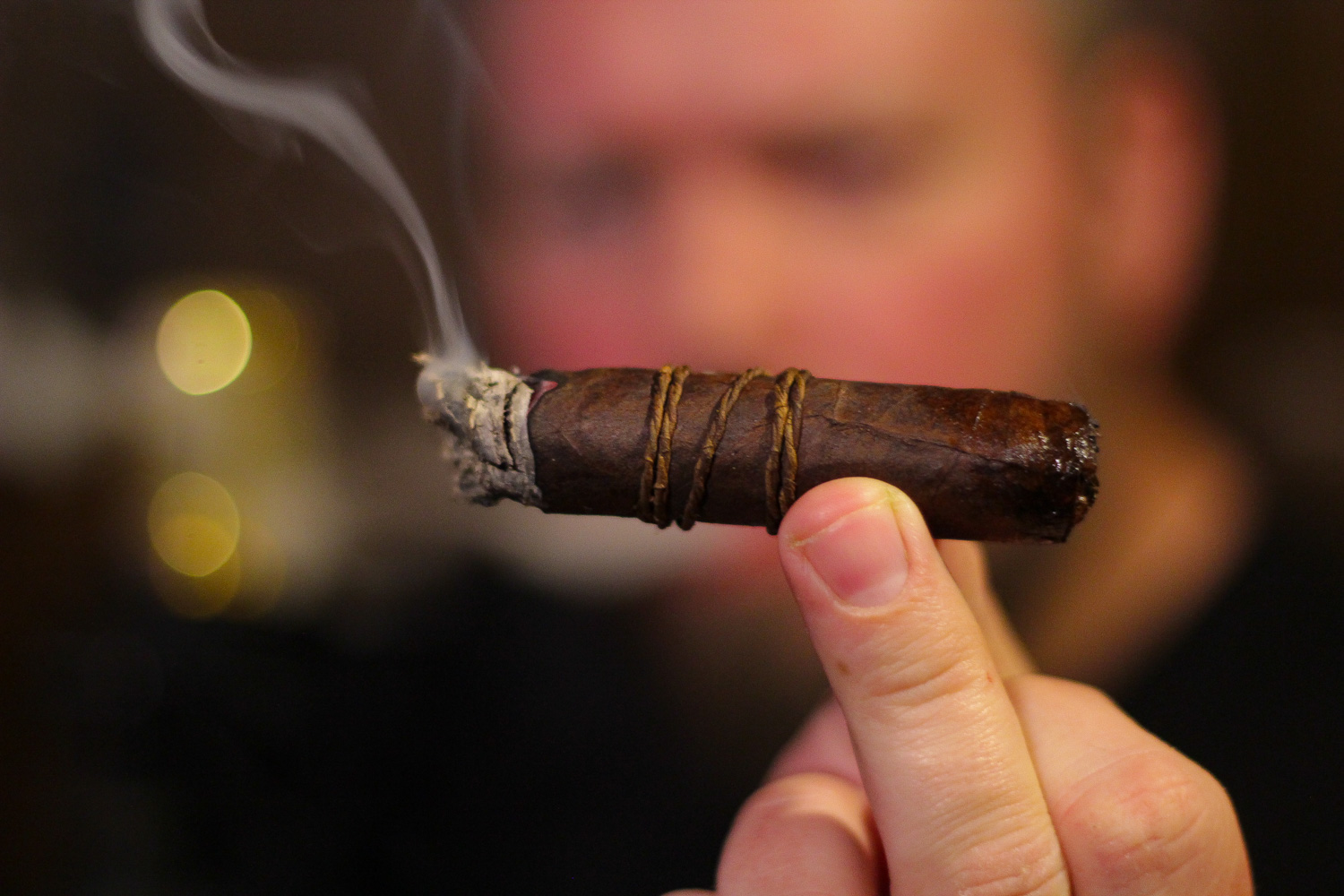 Mineral heavy earthiness, leather, and chocolate reign supreme as the smoking experience continues with the leather taking the captain's chair. The spice on the retrohale never lets up as well. Construction overall is impeccable. This is a gritty, dirty, delicious cigar and we all have it a big Thumbs Up!
TNCC FINAL SCORE: 93
The TNCC first encountered tonight's beer during several trips to a Brazilian steakhouse in Austin, TX where we drank so goddamn much of it that we went into this evening's show having no recollection of both the beer itself and the various events that transpired during those bachelor party excursions in the capital city. That's probably a good thing as our lawyer has told us repeatedly that we can't get in trouble for actions that we have no memory of. After typing that last sentence I'm realizing that we might need a new lawyer. Are we in some kind of trouble here?
The Xingu website reveals this "Pronounced shin-goo, Xingu Beer is Brazil's Premium export and best known international beer. Named after the Xingu River, a tributary of the great Amazon River, Xingu opened the way for the beer revolution that is now taking place in Brazil…" and I should mention here that our thoughts and prayers go out all the victims of Brazil's beer revolution, may hopefully their violent deaths result in better beer for everyone.
It's a good beer. While there's a nice crispness from this black lager with a noticeable but minimal bitterness (and it is indeed black, when poured even direct sunlight couldn't penetrate our pint glasses), when we shifted over to the 35K milk stout from Episode 107 it paired so much more beautifully with tonight's cigar. The Xingu is a good, easy drinking beer but if you're looking for complexity and multiple levels of enjoyment – look elsewhere. Although, as you'll see below on the podcast's YouTube channel, I can chug one of these motherfuckers with ease! So there's that.
We reference our very own short film spoof that we made a few years back tonight (it's clearly an Alex Jones level conspiracy why you haven't seen it by now) and we mention it for a good reason, tonight's film is a spoof in the style of classic films such as the Naked Guns, Airplanes, and Hot Shots.
We were all shocked not just by how goddamn entertaining this movie is (super funny script brought to life by high energy performances by all the players) but by how topical the film's subject matter is in today's #MeToo environment. I'd go on and on about this hidden cinematic gem but that's what the podcast is for so click the links below NOW!
It feels good to be back in The Corner Of No Hope! The boys and I are committed this year to getting back to basics and bringing you the kind of entertaining, unpredictable, and entirely unique podcast that you've come to expect from us. Or something like that…
Please leave us comments on the YouTube episode page, provide us with a review on iTunes, or be a real stud and do both! All these seemingly small gestures would be greatly appreciated as they let us know exactly what you're thinking about this sweat soaked tidal wave of hardbodied insanity we like to call The Tuesday Night Cigar Club.
Below is tonight's full episode for both your viewing and listening pleasure. Thank you for checking out The Tuesday Night Cigar Club and we'll see you next time when we review another cigar, adult beverage, and film. May the wings of liberty never lose a feather…
Podcast: Play in new window | Download (67.2MB)
Subscribe: Apple Podcasts | RSS