It's a new year! So magically all of 2020's problems are all over now, right? Just like that, everything's fine. Right? Well if you drink enough and laugh hard enough everything will be just fine at least for a little while. That's just plain science and that's what we're here for, folks. Your favorite beer scientists have put together a great show for you tonight so click the links below and JOIN THE FUCKING PARTY!!!
Size: 5 x 50
Wrapper: Ecuadorian oscuro
Binder: Dominican Republic
Filler: Nicaragua
Factory: Joya de Nicaragua
Price: $10.50 (and please remember when purchasing some fine Fratello cigars or other brands from FamousSmokeShop.com to use your new favorite promo code TNCC20 at checkout where it will knock $20 off your purchase of $100 or more)
We have featured one other Fratello cigar on the podcast, way back in 2016 on Episode 56 we paired the Fratello Bianco with some movie called Mantervention that I have no memory of. I think my pairing philosophy there was that Bianco is Italian for white and the movie was about a bunch of stupid white dudes, so maybe that was my thought process there. I also recently reviewed an inexpensive bundle cigar from Fratello's new Camo line for the Blind Man's Puff website and it was one of the best budget cigars I've smoked in a very long time, I highly recommend that one… Anyhoo, tonight we are going to be reviewing the Fratello Navetta Discovery! Navetta is the Italian word for shuttle and it makes sense that it's used here in that Fratello's founder Omar de Frias previously worked at NASA for 12 years before dedicating himself to the premium cigar world full time. In a press release, Omar had this to say:
"Blending Fratello Naveta was special as I wanted to translate the ultimate celebration our men and women of the space program felt after a successful mission. After being part of over 21 missions nothing beats the feeling of getting our astronauts home safe to their families. Colleagues of mine would get together and smoke a very special cigar to commemorate the occasion. This very special blend carries the ultimate feeling of innovation, duty, honor and success."
Hey, wait a minute, our film tonight involves space travel! Cade's movie pairing grade: A+. No surprise there. The Navetta line comes in four sizes all named after NASA shuttles: Endeavor, Enterprise, Atlantis, and of course the one we're smoking now – the Discovery. Cool concept, I like it. Not every cigar has to be named after someone's grandfather. So will we need to make "space" in our humidors for more of these? Well, keep reading and you shall find out!
The Navetta Discovery is an attractive cigar that features an alluring chocolaty sweetness on the cold draw and the aroma, when sniffing the foot directly, is pure sweetness as well. Upon setting the cigar on fire, there is a clean, very enjoyable aroma from the thick grey smoke that immediately pours off the Discovery.
There's some nice medium black pepper first up on the retrohale and a definite sweetness along with a nice woodsy cedar note on the draw. While two of the sample cigars drew just fine for the boys, my cigar had an extremely tight draw that I eventually had to open up by inserting a professional draw tool (aka a small flathead screwdriver) into the head of the cigar to get things corrected. But it did the trick! Any port in the storm boys and girls…
As the smoking experience continues, the cedar on the draw is joined by a sweet chocolate note and they worked really well together. A glorious crisp mineral accompanied by a pencil shaving note simultaneously present themselves through the nose around the halfway mark and it completely overshadows the pepper. That change in the retrohale goes very well with the continuing cedar presence on the draw. Speaking of the draw, in the second half Tut picked up on a graham cracker note that he said gelled really well with everything else going on. If that sounds like a whole lot of enjoyable flavors, it is. We all enjoyed the slow-smoking Fratello Navetta Dicovery quite a bit so go pick one up and let us know if you agree!
Once again folks, usually (before this mini apocalypse was thrust upon all of us) we would carefully – some of you have said "expertly" – pair our evening's beer with the cigar and movie and we'd all drink that same beer and compare notes. But since this whole COVID-19 shitshow has happened, each member of the TNCC is now solely responsible for risking their lives out in the wild and acquiring their own beers for each episode…
Named after Redhorn's marketing manager's childhood nickname (mine was "Hands" and I'll let you guess why), this tasty 4.2% stout has the interesting ingredient of potato starch which results in a yeast interaction that makes it a very dry stout indeed. The Taterbug is heavy on the coffee flavor and Tut enjoyed it and he also reported that it paired well with tonight's cigar. As far as how this particular beer was chosen to pair with tonight's film, Tut quoted a People Magazine article that claimed Bruce Willis was bullied as a youngster and called "Taterhead" which after some post-show fact checking turned out to be total bullshit. Nice try asshole! Pairing Grade: F
We actually reviewed this highly enjoyable pale ale back on Episode 99 and, no surprise, The Doctor enjoyed as much as we did back then. It's a rather unique 5% beer and as Doc says "it's cold in outer space" so I guess pairing-wise I'll accept that because at least he didn't lie like Tut… Pairing Grade: C+
This barrel-aged Russian Imperial stout clocks in at 10.6 % and, while delicious, the heavy chocolate flavors completely overwhelmed tonight's cigar. He also grabbed one can of the 9.8% Nebula Bourbon Barrel-Aged Black & Ref Currant Lactose Sour but he was nice and tipsy by the time he remembered he had that beer in the fridge so we couldn't really be sure how he felt about it… or anything else for that matter.
The can featured a really cool skeleton wearing a space helmet so that's kinda cool though. I swear, if Martin House Brewing paid their head brewer what they pay their marketing guy we'd probably like their stuff a lot better. Overall Pairing Grade: B
I specifically chose to revisit this beer that we first featured back on Episode 75 because (A) we are doing a space movie tonight and (B) it's absolutely delicious. Even at 8.2% this strong, malty, highly bitter bad boy stayed in its own lane all night long and didn't interfere with the cigar's flavors one bit. This was, by far, the winning beer pairing of the evening. Pairing Grade: A+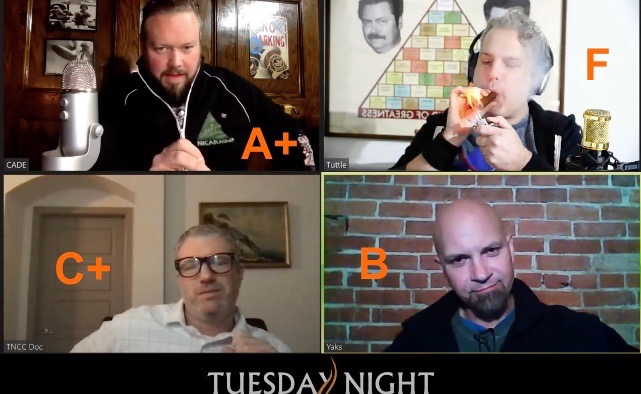 I think after watching/listening to tonight's show that you'll agree that the malty IPA and dry stout were the clear winners as far as cigar pairing partners with the Fratello Navetta Discovery cigar. While they didn't enhance or impact the smoking experience, they both stayed in their own lanes and sometimes that's good enough to help create a great night!
So… Bruce Willis makes a lot of movies these days. I mean A LOT of movies. And seeing as how, for many years of my life, I considered myself the world's biggest Bruce Willis fan I have perhaps unfairly not given these straight-to-video films a fair shake after watching one or two and experiencing ol' Bruno sleepwalk his way through his performances.
So I will say this – Bruce seemed to be having at least a minimal amount of fun in Breach and I honestly wasn't expecting that. But then when I went and screened a few of his other video-on-demand flicks from the last few years, because I'm a responsible podcast host, starting with 2016's Precious Cargo costarring Zach Morris from Saved by The Bell as a master criminal gunrunner and ending with 2019's Trauma Center costarring Steve Guttenberg as a Puerto Rican surgeon, Bruce seemed to be somewhat giving a shit and having a good time in those as well. As he also did in the flick we reviewed way back on Episode 61 Once Upon A time In Venice. I think it's entirely possible that he might enjoy these smaller budget flicks more so than the Hollywood blockbusters in his old age because he can work with his buddies, it's a lighter schedule, he can have a few drinks, and the stakes aren't so fucking high. Maybe? As far as what we thought of the film itself, it was a very mixed reaction and you're just going to have to watch or listen to the show below to find out!
Please leave us comments on the YouTube episode page and subscribe while you're there, provide us with a review on iTunes, or be a real stud and do both! All these seemingly small gestures would be greatly appreciated as they let us know exactly what you're thinking about this sweat soaked tidal wave of hardbodied insanity we like to call The Tuesday Night Cigar Club.
Below is tonight's full episode for both your viewing and listening pleasure. Thank you for checking out The Tuesday Night Cigar Club and we'll see you next time when we review another cigar, adult beverage, and film. May the wings of liberty never lose a feather…
Podcast: Play in new window | Download (56.4MB)
Subscribe: Apple Podcasts | RSS