Our most dystopian episode yet!!! I'm not sure if that proclamation deserves quite so many exclamation points, or any at all actually, but I'm too damn lazy to go back and delete them so here we are. This was both an insanely fun show and a frustratingly frustrating show to do. We started things off by interviewing the executive director of Cigar Rights of America, which you can watch via the video clip below, and after an hour or so of hearing just how troubling the levels of government overreach have risen this year with the FDA's new premium cigar regulations… it was honestly hard to pull ourselves out of a funk.

BUT we did manage somehow (beer) to pull ourselves out of the deep malaise concerning where our great country is headed and I think you'll enjoy this unique highly topical episode. Thanks alcohol!!! Now those exclamation points were absolutely well deserved.
Speaking of the lovely people at the FDA, Enrique Sánchez of Global Premium Cigars is the first manufacturer to file a lawsuit against the FDA and it is for that bold ballsy move that we are featuring one of his cigars on tonight's episode.


This is our second 1502 cigar featured on the podcast. We all highly enjoyed the 1502 Emerald back in Episode 20, so expectations were high as I handed out the attractive 1502 Nicaragua robustos to the boys at the table. This cigar once again featured 1502's patented Cigar Lock method of extending the wrapper just past the binder and folding it downward to both help maintain the stogie's impeccable construction during storage and transport and to deliver a bolder taste immediately upon torching the foot. I mention the 1502 Nicaragua's construction because it truly is top notch. From the burn line to the perfect draw, all five samples smoked had zero issues. I can see why Mr. Sánchez is putting his ass on the line to fight tooth and nail with our government, he clearly has a passion for cigars and it shows in both his products and his willingness to defend his craft. According to the United States Department of Agriculture (USDA), 15.3 million children under 18 in the United States live in households where they are unable to consistently access enough nutritious food necessary for a healthy life. So over 15 MILLION CHILDREN are going hungry in this country but yet the FOOD and Drug Association are going to now spend countless millions regulating premium cigars, an all natural product enjoyed exclusively by tax-paying responsible adults…Makes perfect sense doesn't it? Oops, SORRY. I seem to have stumbled up onto my soapbox for a second there. Now back to the cigar…


The 1502 Nicaragua is dominated by highly enjoyable flavors of cedar, leather, and a really nice natural sweetness that we all picked up on from start to finish. Other notes of earth and honey came and went as well, especially in the first two thirds of the smoke. The nice transitions of leather and cedar intertwined with the sweetness resulted in a very smooth smoking experience. We all felt that tonight's beer really helped bring out the best in this Nicaraguan puro, so without further ado…

On a hot-as-balls Texas night like tonight, the Hop Hunter IPA really hits the spot. Once again, much like their Torpedo Extra IPA we featured back in Episode 2, Sierra Nevada nails the delicious hop flavor and kick without the usual accompanying bitterness. Which was a good thing as we had plenty of bitterness in the room tonight that had nothing to do with hops. So don't be afraid of this "West Coast IPA", it's not scary bitter at all it's just scary good.
There's a strong crispness one the front end, immediately followed by the delicious hops, and then flavors of orange citrus and a muted honey make an appearance. It's a complex, interesting beer and refreshing as hell.


The bleak dystopian future depicted in 1987's The Running Man takes place in 2017. Now light up your stogie, take a deep inhale, and let that soak in for a minute folks…


We talk a lot tonight about the many future predictions that this film got right (a U.S. populace sedated by a 24 hour television feed, hunger, rioting) and the few head-scratching ones they got wrong (the filmmakers believed you could still smoke cigarettes in the work place!). If you haven't revisited this seminal Schwarzenegger film in a while I highly suggest doing so, it's crazy topical with all that's going on right now. Or you could just listen or watch tonight's show below to get a fresh take on an old classic!
And we couldn't obviously talk about tonight's film without drooling over the ensemble of performers assembled here by casting director Jackie Burch. Check out her IMDB page and see for yourself, Burch is responsible for some of the most iconic ensemble film casting of ALL TIME and The Running Man is no exception. I've always said that the two biggest Academy Award snubs in my lifetime were when Val Kilmer was overlooked for playing Doc Holiday in 1993's Tombstone and when Richard Fucking Dawson was ignored for breathing life into the role of Damon Killian here. What inspired casting!!! I only wish this had started a trend where other action directors filled bad guy roles with popular game show hosts. Can you imagine Wink Martindale ruthlessly taking a Navy battleship hostage in Under Siege? Or Chuck Woolery leading a team of rogue military soldiers to free a South American politico and drug profiteer in Die Hard 2: Die Harder? My heart hurts just thinking about what could have been. But then I close my eyes and picture Captain Freedom and all is right with my little dystopian world again…

THE NUB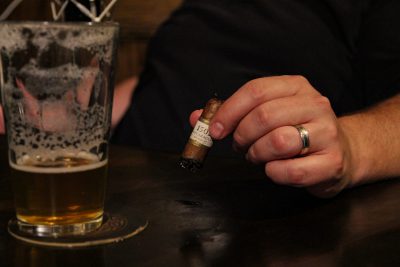 Tonight was the night it finally happened. While photographing the cigar for this very episode page, I dropped my stogie in my pint of beer. In a blink of an eye something that I was highly enjoying was extinguished forever just like that. Don't let that happen to our right to smoke premium cigars. Call your elected officials and state your case for why you as an adult should be allowed to make health decisions for yourself and let them know that you will remember their support (or lack of it) at election time. Also, sign the current petition. Remember ladies and germs, it aint over until Dynamo sings.


Please leave us comments on the YouTube episode page, provide us with a review on iTunes, or do both! All these seemingly small gestures would be greatly appreciated as they let us know exactly what you're thinking about this dystopian tornado of insanity we like to call The Tuesday Night Cigar Club.
Below is tonight's full episode for both your viewing and listening pleasure. Thank you for checking out The Tuesday Night Cigar Club and we'll see you next time when we review another cigar, adult beverage, and film. May the wings of liberty never lose a feather…

Podcast: Play in new window | Download (247.0MB)
Subscribe: Apple Podcasts | RSS