What do you get when you mix an entire bottle of Irish whiskey, a few dozen pints of Irish stout, and one mischievous horny leprechaun? Why, you get tonight's episode!!! It's our 2nd Annual Saint Patrick's Day Drinking Extravaganza and to say it was a memorable night would be a vast understatement. Did I mention there was a mischievous horny leprechaun involved? At least I think he was horny… my memory is a bit fuzzy… he was definitely mischievous though.
The La Flor Dominican Double Claro No. 48 is green as green can be, it looks like you're puffing on Frankenstein's wang. It lacks the typical candela grassy aroma on the prelight sniff and upon toasting the foot we were all very surprised by the strength behind it. The cigar indeed has a weightiness that's atypical of a candela cigar but unfortunately we all discovered that it has a corresponding harshness as well.
Construction is nice across the boards with an easy draw, straight burn line, and copious smoke production. It feels good in your hand and isn't soft or spongey at all (that's what she said). This is one of the rare occasions where I actually preferred the retrohale as opposed to the flavors (or lack of flavors) experienced when exhaling out my word hole. Truth be told, the La Flor Dominicana Double Claro No. 48 left our mouths a bit dry and our lasting impressions a bit underwhelmed. Luckily we had an impressive arsenal of booze on hand to remedy those cotton mouths…
A super smooth, easy drinking, pitch black beer that pours beautifully out of the can. The English stouts certainly seem to put CREAMINESS above all else in comparison to the American craft stouts which seem to emphasize the popular coffee and chocolate notes and the TNCC is just fine with that. We love creamy beer and we love creamy cigars, cream cream cream. We're talking fucking cream here, folks. C.R.E.A.M.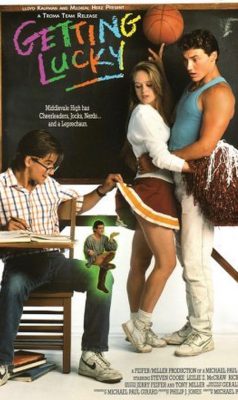 That's the "poster" for tonight's film Getting Lucky, now streaming on Amazon Prime. Just look at it. Now watch the "trailer" below.
I think you now have a good idea of just how fantastic tonight's film discussion will be, so that's all I'm going to give you here. Now watch/listen to the damn show below!!!
THE NUB
I apologize for keeping things much more brief on this page than usual but we wanted to rush and get this spectacle out to your eyes and earholes as quickly as possible. So many drinks, so many laughs, so many mischievous horny leprechauns. I just know deep down in my heart and in my battered liver that you're going to have a blast with tonight's episode.
Please leave us comments on the YouTube episode page, provide us with a review on iTunes, or do both! All these seemingly small gestures would be greatly appreciated as they let us know exactly what you're thinking about this sweat soaked tidal wave of hardbodied insanity we like to call The Tuesday Night Cigar Club.
Below is tonight's full episode for both your viewing and listening pleasure. Thank you for checking out The Tuesday Night Cigar Club and we'll see you next time when we review another cigar, adult beverage, and film. May the wings of liberty never lose a feather…
Podcast: Play in new window | Download (94.7MB)
Subscribe: Apple Podcasts | RSS