Well we're halfway to our beloved Halloween boys and ghouls, so here's another spooktacular show for your eyes and earholes! Yeah yeah, I promise to stop using words like "spooktacular" and "boorific" come November 1st but until then I wouldn't hold my breath if I were you….
Size: Corona (5 5/8 x 46)
Wrapper: Ecuadorian Sumatra Sun Grown
Binder: Connecticut River Valley Stalk Cut/Cured Sun Grown Habano (aka the T52 wrapper leaf)
Filler: Nicaraguan, the cigar contains one leaf of aged ligero from the Nueva Segovia region of Nicaragua along the border of Honduras, which was added to the blend for strength.
Price: $8.00
The sun grown wrapper feels similar to a well-worn leather jacket when you run your finger down it. After just barely slicing off the cap of the cigar with scissors (this cigar does not need to be cut deep), we all experienced hay and a raisin-like sweetness on the cold draw.
An initial blast of spice hits you like a baseball bat on the retrohale but it quickly settles down (almost instantly actually, by the third or fourth draw it's hardly noticeable). Notes of graham cracker, subdued cedar, and milk chocolate swarm your palate early on. It's like you're smoking one of those delicious Little Bucket Parfaits the cold heartless bastards at KFC decided to discontinue for some stupid reason several years ago… fuckers.
Construction of the Undercrown Sun Grown is tip top, featuring a perfect draw and sharp burn lines on all the cigars smoked. There is a restrained, very dim note of leather that joins the party in the second half but the smooth chocolate is the Host With The Most by far. A creaminess also gradually develops and along with it a certain unique mystery flavor (you'll have to watch or listen to the show below to find out) helps contribute to the Undercrown Sun Grown being unlike anything else in the DE lineup.
This is one tasty, nuanced cigar and if Willy Herrera and the factory floor cigar wizards at Drew Estate were looking to fill the void between the dark Undercrown Maduro and the light Undercrown Shade then I say it's mission accomplished.
TNCC SCORE = 93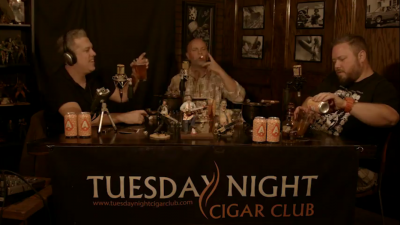 It's an Austin-centric show so it only made sense to pair tonight's cigar and film with a beer brewed right down the road in ATX. As it's still balls hot in October here in Central Texas, we were pleased to find the Bloodwork Orange IPA to be surprisingly refreshing (they put the IBUs at 72 but we, as highly regarded internet beer experts, collectively felt that number was high).
That sharp but far from overpowering bitterness is conjoined with an enjoyable citrus/blood orange flavor that dominates on the front end. How did the beer pair with the cigar? Is a "blood orange" just a hipster's way of saying grapefruit? Which one of the TNCC crew gave this beer a big thumbs down? Watch or listen to the show below to find the answers you seek…
Tobe Hooper passed away a little over a month ago on August 26th at the age of 74. We just filled The Boot of Remembrance last episode to legendary horror director George Romero and Tobe Hooper was certainly in that Elite Four of master fearmakers along with Romero and the late Wes Craven, leaving only John Carpenter now still among the living. Man, I can't even imagine in what capacity I'm going to lose my shit when JC is taken from us… but let's not think about that right now. Tobe Hooper was born just down the road in Austin TX back in 1943 and as a young kid who wanted to make scary films that always inspired yours truly after reading about him in Fangoria magazine, that someone from Central Texas could actually grow up and make movies (keep in mind this was back in the 80s and early 90s when Austin was still relatively small and completely off Hollywood's radar, just a beautiful place to hang, sadly that's not so much the case any more). Well Tobe Hooper was proof that you could assemble a small group of likeminded maniacs, get ahold of a camera, and create something passionate that could absolutely set the world on fire. We all tried our damnedest to follow the trail he blazed over the years but no one ever came close to achieving what this man did in essentially creating the modern horror film with 1974's The Texas Chainsaw Massacre.
The man leaves behind an eclectic filmography that cements his legacy as one of the true masters, here's a handful of his films:
The Texas Chainsaw Massacre (if he stopped there Tobe would still be a legend)
Eaten Alive (a grimy underrated fever dream of a film)
The Funhouse
Poltergeist
Salem's Lot
Life Force
Invaders From Mars
the really fun Crocodile
and of course tonight's miracle masterpiece The Texas Chainsaw Massacre Part 2
Tobe once told horror historian Mick Garris this – "When I make a film I continuously sand it, and sand it, and sand it, and polish it, and polish it, and polish it, because the closer to music I can make it the happier I am. I want its effect on you to almost be like music." I believe that approach shows through and I think Hooper accomplished that aesthetic far more than he missed the mark. It's visual poetry, even in the blood drenched chaos, and it's certainly the aspect in his films that inspired me most. Go to the TNCC YouTube page and watch my film Underbelly if you're curious as to just how large of an influence this man was and still is on my own filmmaking. Rest In Peace Tobe Hooper and thank you for all the gifts you gave us over the years.
And now we move on to tonight's film. A film of pure excess, a film where the human body is nothing more than a slab of fresh meat to be butchered, a film that when it's at its best at is the Three Stooges drenched in blood and screaming bloody murder at the moon, the film is of course The Texas Chainsaw Massacre Part 2!
And if you think I'm going to give you any insight here as far as our film conversation on the show, you're crazier than you look. Now watch or listen below! Do it!!!
THE NUB
What a show! We've got one more horrorific episode coming your way next week and then, I promise, I'll stop using words like horrorific. Or will I…?
Please leave us comments on the YouTube episode page, provide us with a review on iTunes, or be a real stud and do both! All these seemingly small gestures would be greatly appreciated as they let us know exactly what you're thinking about this sweat soaked tidal wave of hardbodied insanity we like to call The Tuesday Night Cigar Club.
Below is tonight's full episode for both your viewing and listening pleasure. Thank you for checking out The Tuesday Night Cigar Club and we'll see you next time when we review another cigar, adult beverage, and film. May the wings of liberty never lose a feather…
Podcast: Play in new window | Download (104.0MB)
Subscribe: Apple Podcasts | RSS