Damn, compiling this years "Best of 2016" list was absolutely brutal. We smoked so many fantastic cigars this year that it literally took us two weeks of internal debate and several sleepless nights to narrow it down to these Top Five. Well, that's a lie, there were no sleepless nights. When you drink like we do as professional beer podcasters sleep isn't really an option, it just happens whether you want it to or not (sorry Jack In The Box drive-thru!). But there certainly was much debate and by debate I mean expletive-heavy shouting and the throwing of pint glasses against walls in childlike tantrums when the rest of the TNCC crew didn't see eye-to-eye with your particular selections.
As always, to be qualified for our "Best of 2016" list the cigar had to be featured and reviewed on the Tuesday Night Cigar Club podcast. Cigars that received only written reviews on the Beyond The Pod section of our website or stogies that the four of us smoked away from the show entirely were not eligible. So without further ado, here's the very best of the best! Click on the cigar's name and you'll be taken to its original TNCC review:

"In the second half, the peppery spice comes back which is a very nice surprise while the chocolate, coffee, and earthiness continue to rule the roost. And that was just A-FUCKING-OK with us. We all loved this cigar from start to finish. It's rare in life when one's level of anticipation is rewarded by the long-awaited subject actually exceeding what you had dared hoped that it would be (I'm looking at you The Force Awakens). But Dunbarton has delivered a broadleaf badass with the Mi Querida that is going to make a lot of guys and gals, who prefer their stogies strong but nuanced and most importantly absolutely fucking delicious, very very happy."

"It's a rustic but very well balanced cigar and I imagine the NBK will be equally enjoyable to both the seasoned cigar smoker and a newbie on the scene."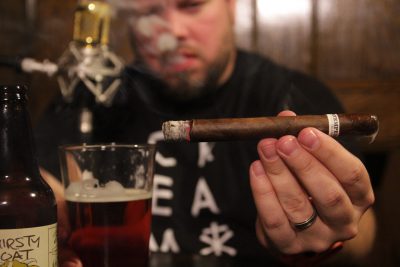 "Great flavor, great strength, great balance, always great construction…" That's a lot of "greats" used by our own Jason Tuttle when describing the Intemperance BA XXI AWS IV and, for once, I'm in full agreement with him.

"The Elegante en Cedros is a gorgeous cigar that stays faithful to the original Sobremesa while also bringing new elements to the table."

"There is a sweet fruitiness initially (raisins, grapes) that slowly gives way to a creaminess that was by far the shining attribute of this cigar for me. CREAM. While half of our crew picked up on notes of earth and leather, the others just honed in on that delicious CREAM and let our palates swim in its creamy goodness. CREAM."
RUNNER UP:

"Impecable construction. Distinctive layers of flavors that transitioned back and forth amongst each other masterfully. We loved El Gueguense, an absolute winner. A 2+ hour smoke that takes you on a fun ride and is worth every minute of your time and every dollar you hand over for it."
THE NUB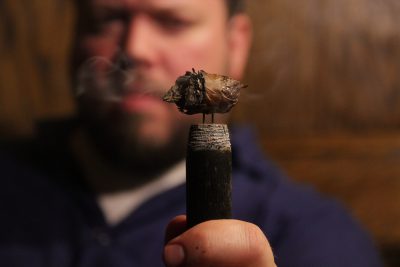 Well, it was a hell of a year for the Tuesday Night Cigar Club. We conducted a handful of landmark interviews (Jonathan Drew, CRA's Glynn Loope) and participated in some stellar and unique events (CATS Fest, RoMa Craft's FDA Q&A Bottle Share). And then we ended the year by stepping away from the microphones briefly and shooting a TNCC original short film that we'll be slapping your eyeballs with in 2017! It was a really good year overall and as our audience continues to grow month-to-month, despite or perhaps because of all our deranged antics, we can't help but be extremely grateful for and humbled by your continued support. Thanks folks.

May the wings of liberty never lose a feather. Now let's bring another round!