CroMagnon EMH Fomorian
Size: 5 x 56
Wrapper: Ecuadorian Connecticut Candela
Binder: Cameroon
Filler: Nicaraguan
Price: $8.99 (Habana House, Austin TX)
The first cigar I ever smoked was a green candela. My uncles were my heroes growing up and my Uncle Dave was a cigar smoking, race car driving, exploitation movie loving, badass who made the mistake of leaving his Grenadier cigars unsupervised one summer afternoon and I fucking went for it. I wasn't even old enough to drive but I just couldn't resist the temptation of that intoxicating aroma I grew up around any longer, so I grabbed a stogie and a book of matches and hightailed my bicycle to a nearby park.
As I crouched underneath a slide on the playground, the wind blew out match after match as the Gods clearly didn't want this young punk to have his first taste of the devil's tobacco. And then with my one remaining match there was FIRE! I was so terrified of being caught that I probably only had a dozen puffs or less before I buried the evidence under some gravel and headed back to the house, my heart racing and my brain buzzing. It would be a few years before I smoked another cigar, and God only knows how many I've smoked in the decades to follow, but you never ever forget your first. As one of the Top 11 Cigar Experts In The Known Universe, I can confidently and somewhat sadly report that it is extremely difficult to track down a candela wrapped cigar that delivers anything truly special these days. We've tried several times on the show with very little success, so going into this review I had realistic expectations but was, as always, open to anything…
PRE
While the aroma emitting off the candela wrapper is unsurprisingly pure Bell County Expo Center (i.e. Hay), the foot of the Fomorian gives off an extremely sweet smell. Almost chewing tobacco sweet. After clipping the cap with my scissors I experience that same thick sweetness sensation on the cold draw. There doesn't seem to be any soft spots on the cigar whatsoever, it's filled just right with only a slight give when squeezed.
1/3
Sweet sensations my sweet ass! Upon torching the foot I'm immediately taken aback by the power on display right out of the gate. My nostrils burn in that great way that only a great cigar can make them burn. Dark earth dominates the draw with a slight hint of mint on the back end. Again, there's no sweetness present here whatsoever – forget everything I said about sweetness right now you damn stupid fools! Sorry, sorry, in the spirit of Saint Patrick's Day I may have had a few beverages this evening…
2/3
Construction so far has been tip top with a straight burn line, smooth draw, and a solid stack-of-nickels ash that hangs on tight like a tipsy college freshman clinging to edge of the bar. That classic Nicaraguan earth and mineral make the strongest impressions in the second third with only a slight hint of grassiness on the retrohale. The spice on the nose is almost completely MIA at this point. Maybe it will come back at some point… and maybe I'll find my misplaced car keys at some point in the evening as well. Actually some things are probably better off MIA on Saint Patty's Day.
All in all, the Fomorian is reminding me a great deal of the other stogies in the CroMag lineup only it's devoid of the classic Broadleaf espresso note and there's a creaminess that enters around the halfway point that is reminiscent of what I've experienced, RoMa CroMag wise, only with the elusive Black Irish. And it's worth mentioning that dark grey ash hangs tough well past the midway point.
3/3
The creaminess that came into play earlier is now leading the charge with the Nica earth right behind it. There's still the hint of grass mixed with spice (it came back!) on the nose which makes for a delightful retrohale. And, I believe, that's the first time I've ever used the word "delightful" in print. Not that there's anything wrong with that. If anything the spice steps up a notch here at the end and the mint returns as well, they're both welcome transitions for sure. Smoke production also ramps up a bit here in the final act and I'm left dropping the Fomorian down into my stinky ashtray with a content smile on my face. I think, I didn't have a mirror handy and but it felt like something resembling a smile on my face…
THE NUB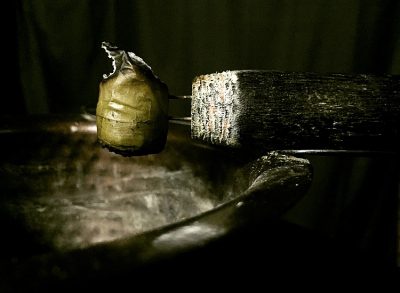 And so concludes the TNCC's seemingly endless quest for a "total package" candela cigar. When we reviewed the La Flor Dominican Double Claro No. 48 back on our 2nd Annual Saint Patty's Day Drinking Extravaganza (Episode 47) it had some balls to it as well BUT those balls were accompanied by an undeniable harshness that we just couldn't work around. The Fomorian has balls AND sophistication, like yours truly, and it should find a mass appreciative audience this March 17th and beyond. So I guess we've finally found the one green cigar out there that's useful for something other than Miss Piggy's dildo*.
*I can't be the first cigar reviewer to make the "Miss Piggy's dildo" joke so if I stole somebody's muppet porn thunder I apologize in advance