I want to take a quick moment here at the top of this episode page to address tonight's show and explain why you don't have your usual options for enjoying it. It's a fantastic entry in our March To Halloween series but due to an unavoidable technical snafu we weren't able to capture any of it on video so it has become our first show in years that you poor folks must to listen to rather than having the option to watch it (and our handsome, well chiseled visages) on our YouTube channel. So suck it up butter cup and go grab your headphones, you'll just have to do without seeing your favorite crew of studs just this once as we (and our camera) will be back in business next time around.
Size: 5 1/2 x 52
Wrapper: Nicaraguan (Medio Tiempo Habano)
Binder: Nicaraguan (Ometepe)
Filler: Nicaraguan
Price: $11.89
Lustrum is an ancient Roman term for a five year period and this is, of course, Southern Draw's 5 year anniversary. In a press release, Southern Draw's main man Robert Holt had this to say:
"If we were entering a BBQ cook-off this summer and only had a single cut of meat to submit to the judges, the LUSTRUM would be a consensus choice by the family. Offering extravagant and rather pricey vintage tobaccos at a blue collar price, a thank you to those who have supported the brand over the last five years. We think we have a cigar worthy of celebrating the first five years of Southern Draw – a family company that by the Grace of God and for the love and support of an industry – has made it longer and been more consistent than many expected."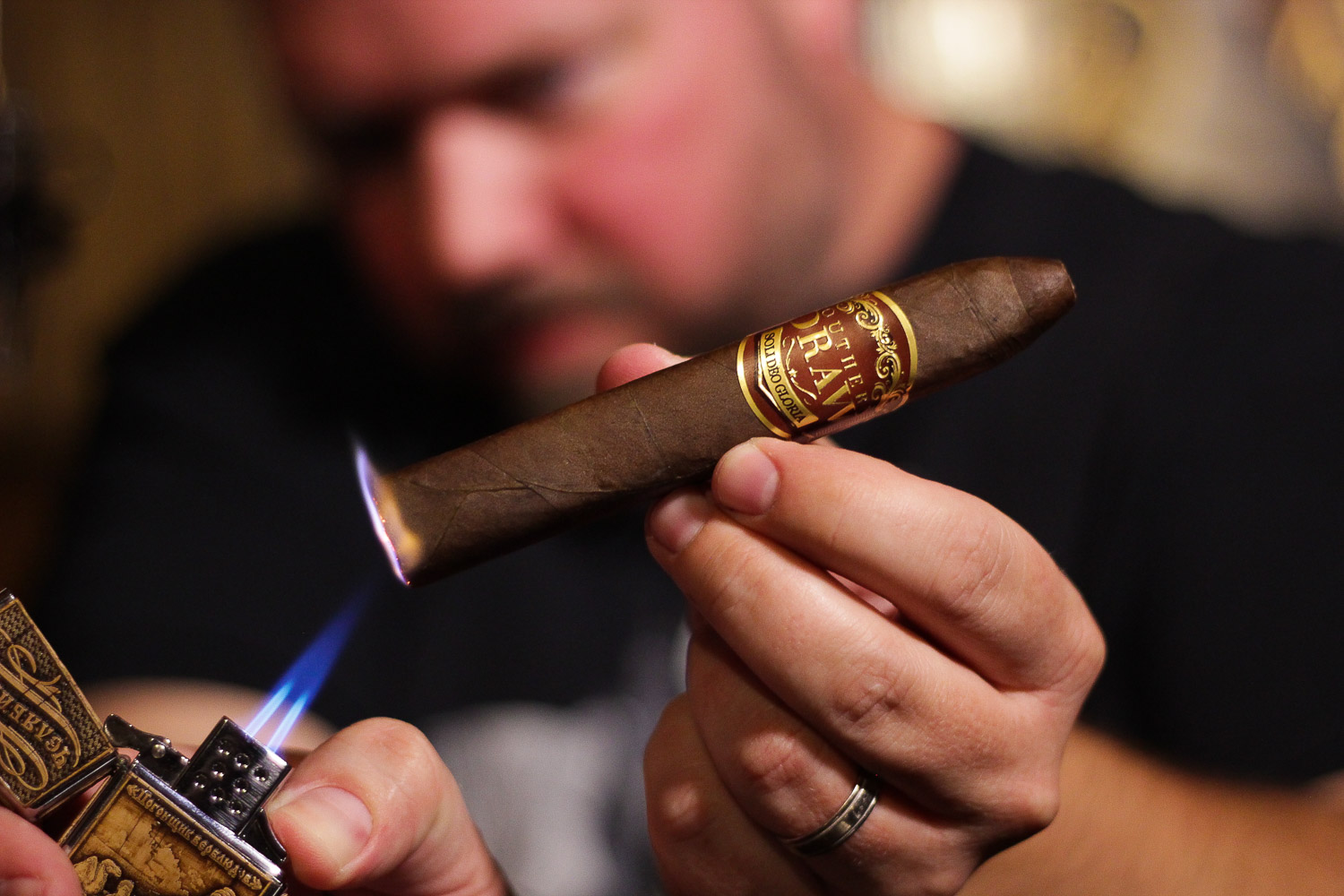 This Nicaraguan puro features a strong sweetness and hay sensation on the cold draw prior to lighting up. Upon torching the foot, there's pleasant mild pepper and mineral on the nose and we all experienced coffee on the draw mixed with rich Nica earth. Before the first third of the smoke was complete, that mineral component shows up on the palate as well and combined with the similar note on the retrohale it creates an awesome and quite unique profile.
After the halfway point, the smoke production catapults to Liga Privada-esque proportions. The thick, all-encompassing aroma pouring off the Lustrum is amazing and construction overall is damn near perfect. On the draw there's a dark chocolate note that joins the pre-existing flavors and it brings a natural sweetness along with it. The overall strength takes a big jump up in the second half which was a nice surprise. We like interesting cigars here in The Corner Of No Hope, we like stogies that don't bore us, and the Kudzu Lustrum is a delicious box-pressed rollercoaster of a cigar that's a perfect representation of Southern Draw's rollercoaster of a journey over the last few years to become a key player in the premium cigar industry.
TNCC FINAL SCORE: 93
Size: 6 x 56
Wrapper: Pennsylvania broadleaf
Binder: American
Filler: 3 different ligeros from the Dominican Republic & Nicaragua
Price: $11.99
The original Jacob's Ladder used a Pennsylvania broadleaf maduro wrapper over an Ecuadorian maduro binder with fillers from Nicaragua and it was a strong sonofagun that was properly billed as a double ligero. We reviewed it way back on Episode 63, rated it a 93, and named it our #6 cigar of 2017! Well now it's 2019 and we have the triple lijero version, The Brimstone, so we all slid on our big boy pants in anticipation of a super-strong asskicker of a cigar. And, to be honest, we were all just glad The Doctor wore any pants at all for once…
That Pennsylvania broadleaf wrapper is as dark and scary as Jason Voorhees himself. We picked up on a musty, charred oak flavor on the cold draw and that same oakiness when sniffin the leaf itself. Upon ignition, there's a bold strength and jalapeño pepper through the nose and we were all surprised that that the same strength didn't carry over into the draw.
There's a dominant mesquite woodsiness and leather profile that's very enjoyable with an addition of earthiness in the final third BUT for a cigar that's blended and billed as a ballsy triple ligero, it shocked the table as far as just how unballsy the strength factor actually was. The Jacob's Ladder Brimstone is a very good well-constructed cigar; however, our expectations (based admittingly on Southern Draw's marketing) admittingy threw us off course. It's like ordering a Wendy's Baconator and lifting up the bun only to find two slices of bacon. We just didn't get punched in the balls like we wanted to and, yes, that's a strange sentence to type. But there's always that chance that by this point in the evening we were so drunk that our opinions are completely invalid and mean nothing to you. Thanks for judging us dickheads, we gots lots of mental baggage we're dealing with in our own special way here!!!
TNCC FINAL SCORE: 88
We're big fans of Czech pilsners here on the show, not huge fans mind you, but we do certainly like them. Most of the time or some of the times at least. The Lager Of The Lakes from Bells Brewery has a nice herbal aspect to it that comes into play once that initial crispness quickly dissipates on the lips. It's a great "summer time beer" here in October (which still feels exactly like July here in Central Texas which is total bullshit).
In comparison to our first beer of the night, the Lake Breeze blonde ale from Seguin Brewing Company has a SHITLOAD of flavors (please excuse the beer expert terminology used there). It's seriously some tasty shit! There's a nice weight to this beer and it has a highly present citrus profile that we all enjoyed. Seek it out folks, it's good.
This fifth entry in the Friday the 13th series plays more like a whodunit and we all kind of dug that aspect of the film. The producers and creative team had to at least attempt a new spin on the whole "Jason comes back from the dead yet again" storyline and, despite the criticism this film received from hardcore fans, I think it mostly works (helped BIG TIME by an amazing cast of talented actors). And that's why we chose Part 5 to talk about tonight, it's unique just like us. What, you don't think the TNCC is unique?
We hope you enjoy tonight's show as much as we enjoyed putting it together for you. And us, we totally do this for us as well. When it stops being a fun time at the table, when the laughs cease to flow like the endless beer in our pint glasses, we shall walk off into the night never to be seen or heard from again. By you, that is, as of now we will still remain in contact with some select family and friends…
Please leave us comments on the YouTube episode page, provide us with a review on iTunes, or be a real stud and do both! All these seemingly small gestures would be greatly appreciated as they let us know exactly what you're thinking about this sweat soaked tidal wave of hardbodied insanity we like to call The Tuesday Night Cigar Club.
Below is tonight's full episode for both your viewing (sort of, we strung together some pics for you to look at) and listening pleasure. Thank you for checking out The Tuesday Night Cigar Club and we'll see you next time when we review another cigar, adult beverage, and film. May the wings of liberty never lose a feather…
Podcast: Play in new window | Download (79.3MB)
Subscribe: Apple Podcasts | RSS