This could very well be my favorite TNCC episode of all time. It aint good – it's fucking great. Don't believe me? Well, you smug skeptical bastard, click on the YouTube video below and judge for yourself. And I'm very sorry for calling you a bastard. That was out of line and I'm not sure where that unprovoked burst of anger came from… perhaps I need a drink.
Tonight's cigar smoking experience started off on somewhat of a hilarious note as Tut complained about the lack of air flow coming through the cigar on the cold draw, only to quickly realize the Zlatno Sonce has a closed foot… that guy. The aromas coming off the stogie on the preflight sniff were hay, sweet tobacco, and heather honey. The cigar features a beautiful light brown Ecuadorian Connecticut wrapper with minimal veins, minimal seams, and it even has a little sparkle to it. Factoring in the appearance and the enticing smells coming off this sucker, I can't remember when all four of us were this enamored with a cigar before we even set it on fire. Jas Sum Kral produced our #5 cigar of 2016 so you could literally feel the high expectations in the room. Or that might have just been Yak Boy's hand on my thigh I was feeling… a fuzzy memory is one of the only downsides to drinking as much as we do on Tuesday nights.
A strong pepper blast on ignition was quickly followed by bready toast note. Smoke production is plentiful and within minutes a nice creaminess presents itself. While the pepper remains only on the retrohale, the toast and cream are the dominant flavors in the first half. I also picked up a unique mint note and coffee flavor before the end of the second third. Construction was superb throughout with an even burn line and smooth draw.
The cigar's strength kicks up astronomically in the final third after the band is removed and the powerful spice increases as well. Leather! Leather makes an appearance along with a well-balanced nuttiness. These flavors along with every other previous flavor come out an play together in the grand finale of the Zlatno Sonce. Just like the Red Knight toro from Jas Sum Kral, this cigar isn't boring by a long shot and it has a very fair price point of $10.50.
One of us proclaimed that tonight's cigar was the best they've smoked so far this year and someone else made an extremely bold statement regarding tonight's fantastic Zlatno Sonce after we all dropped the stogie's remains down into our stinky ashtrays. But I'm not going to reveal that particular bold statement here. Not because I'm an asshole, although I am an asshole, but because I want you to watch or listen to the show below. Do it now!
The term "Imperial" is usually used to describe a stout, which this beer is not. The term "Double IPA" usually describes a Double IPA, which this beer is not. Confused yet? Well, so were we. The Lagunitas Sucks has no noticeable bitterness or bite that we usually associate with IPAs. Lagunitas refers to this as a cereal melody beer and who amongst us hasn't mixed Coco and regular Rice Crispies at some point in their lives? The beer does have a "complexishness" (their term) to it although I would have used "complexinocity" but we're splitting hairs at this point. Floral notes, sweet hops, and a minimal citrus element make for an OK beer – it does not suck but it aint great either. I did pick up a maple note on the fourth beer but by then it was too late to get a thumbs up from me. Did the other knuckleheads at the table dig it more? Watch or listen below you lazy bastard!!! Sorry again, you're not a bastard and I think I may need another drink about right now… bring another round!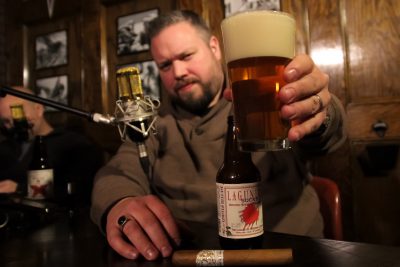 As far as tonight's pairing is concerned, the Lagunitas Sucks did not compliment the Zlatno Sonce's flavors at all but they absolutely didn't compete or conflict with one another either. If you brainiacs come up with a pairing that works better for these two test subjects let us know!
As part of our ongoing retrospective of The Corey's filmography, we dove headfirst into tonight's film Blown Away and I don't think any of us were quite ready or prepared for the amazingness that was about to slap us across the face. Speaking of things slapping people in the face, the title of the movie is deceiving in that it doesn't refer solely to bjs… but that's all I'm going to say about that here.
Actually that's all I'm going to say about Blown Away here period. Watch or listen below, we dissect this unsung masterpiece like only we can and I promise it'll be the most entertaining four hours you'll ever spend in your entire life. Unless, by some chance, you happen to be Corey Feldman. Now that motherfucker has lived a life.
THE NUB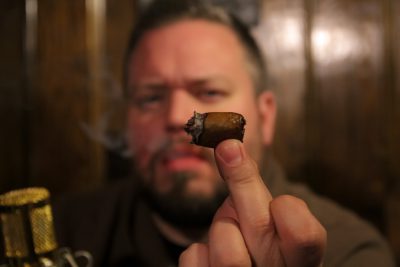 This is the episode that I want us to be remembered by. It was one of those nights where everything came together exactly as it should and I hope you have as much fun watching it as we did recording it.
Please leave us comments on the YouTube episode page, provide us with a review on iTunes, or do both! All these seemingly small gestures would be greatly appreciated as they let us know exactly what you're thinking about this sweat soaked tidal wave of hardbodied insanity we like to call The Tuesday Night Cigar Club.
Below is tonight's full episode for both your viewing and listening pleasure. Thank you for checking out The Tuesday Night Cigar Club and we'll see you next time when we review another cigar, adult beverage, and film. May the wings of liberty never lose a feather…
Podcast: Play in new window | Download (108.0MB)
Subscribe: Apple Podcasts | RSS