A cigar that features TWO wrappers, a TWO HEARTED ale, a film about the TWO Coreys, and TWO wits between the four of us, welcome everybody to our SECOND episode of 2018! Will tonight's subjects earn our respect or be flushed down the toilet like a smelly number TWO that… ok, ok, you get the point. But seriously, we're going to have TOO much fun tonight! Ok, no more, I promise.
Size: 6 X 54 (belicoso)
Wrapper: Ecuadorian DeFlorada Connecticut/ Ecuadorian Habano Maduro (2 wrappers, see how that fits into the theme of tonight's show?)
Binder: Nicaraguan Tiempo
Filler: Nicaraguan
Price: $9.95
The Isabela Serpentine is firm to the squeeze, with a noticeable prelight barnyard aroma, and a distinct sweetness on the cold draw. As you'll hear us explain on the show below, the Serpentine utilizes a sugar based adhesive on the cap so that certainly explains where the sweet component originates from…
And that sweetness was just too present for some of us (2 out of 4 TNCC members) to really move on from it. While I experienced notes of mineral, wet wood, peanuts, salt, and buttered popcorn throughout the two samples I smoked, some of the crew never got past that initial sugary introduction. It should be mentioned that the crew did eventually pick up on fleeting flavors of vanilla and hay/grass but it was a case of too little too late.
Construction on all four samples smoked during the show was good: straight burn lines, smooth draw, and ample smoke production. If you are at all adverse to sweetness and you don't want to run the risk of having that one element overwhelm your palate right out of the gate, I highly recommend cutting the Isabela Serpentine deeper than is customary before lighting up. Have you had a different experience with this cigar? Drop by our Facebook page and tell us your thoughts!
FINAL TNCC SCORE: 85
Sweetness and honey on the front end with a slight bitterness on the back dominate the flavor profile of this delicious whiskey blend out of Rochester, New York. Cask & Crew is a mix of Canadian rye (51%) and Kentucky corn mash (49%). And, in our expert opinion, it's 100% tasty. Maybe next time we get our hands on a bottle it will last for more than three hours… Big thanks to our loyal listener Rev Java for the generous gift!
With the first sip of the Two Hearted Ale your palate gets greeted with a perfect balance of Centennial hops (Pacific Northwest) and citrus (grapefruit). In fact, the aroma of hops and citrus are so strong on the nose that there could be concern that the corresponding flavors would be too much and, perhaps, overwhelming for some. Nope – it's fucking delicious through and through. Where we all unanimously disliked the Bell's Porter that we reviewed on a prior episode, its lack of flavor and any complexity whatsoever is made up for in spades by the Two Hearted Ale. We all agreed that this was the best beer we've featured on the show in quite some time. Seek this one out if you love fantastic beer! And if you don't love fantastic beer, seek out professional help at once. It's just so damn good!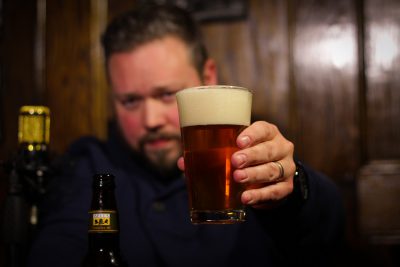 "The dead can't contradict." The Doctor prefaced tonight's show with these wise words and as an audience member of Lifetime's "A Tale Of Two Coreys" you'd be wise to keep this in mind. What we get here with this biopic is one person's recollection of events and that one person is Corey Feldman, one half of The Two Coreys. As always, I'm not going to divulge any of our talking points from the show here on this episode page. But I will state this – if long after I'm dead any of my fellow TNCC "brothers" write and executive produce a biography of our time together that paints me with same type of unsavory brush that's used to depict the late Corey Haim in this TV movie, I will haunt their asses for all eternity something fierce. And that's all I'm going to give you here, so watch or listen to the show below to learn how we really feel. Do it!
Well… we get pretty tanked by the end of tonight's show. I know what you're thinking – "What else is new?!?". But, for the most part, it's a fun drunk and we really do what we do best on this episode. You'll laugh, you'll learn a few things, you'll cry, and maybe ~ just maybe ~ you'll learn to love again. That's our TNCC promise to you.*
Please leave us comments on the YouTube episode page, provide us with a review on iTunes, or be a real stud and do both! All these seemingly small gestures would be greatly appreciated as they let us know exactly what you're thinking about this sweat soaked tidal wave of hardbodied insanity we like to call The Tuesday Night Cigar Club.
Below is tonight's full episode for both your viewing and listening pleasure. Thank you for checking out The Tuesday Night Cigar Club and we'll see you next time when we review another cigar, adult beverage, and film. May the wings of liberty never lose a feather…
* NOT an actual promise in any way shape or form
Podcast: Play in new window | Download (124.7MB)
Subscribe: Apple Podcasts | RSS