Size: 6 1/4 x 46 (corona larga)
Wrapper: Pennsylvania Broadleaf
Binder: Nicaragua Habano
Filler: Connecticut, Nicaragua, and Pennsylvania
Price: $10.50
It's Sunday night and I'm in a shitty mood. After spending nearly an hour combing through Netflix and Amazon Prime for something to take my mind off my troubles but coming up with absolutely nothing, I decided to light up a cigar that I've been reluctant to feature here in The Corner Of No Hope simply because its namesake is a movie I think sucks.
But just because the movie is essentially the cinematic equivalent of an Affliction t-shirt, I suppose that doesn't at all equate to the Boondock Saint cigar from Black Works Studio sucking. Or at least I hope not. After all, as a lifelong Chicago Bears fan I love me some Mike Ditka but his cigar was a big fucking dud so I'm going into this review with an open mind.
1/3
Immediate notes of Sumatran coffee and earth surface upon toasting the closed foot. There's also a faint presence of chocolate early on but the coffee is dominant by far. At about an inch in, a slight spice arrives in the retrohale but it's not super potent by any means. Kind of like Troy Duffy's screenwriting for The Boondocks Saints. Sorry, I couldn't help myself. In the nineties there were so many Tarantino wannabes making really bad "films" and for some reason I subjected myself to most of them looking for a diamond in the rough. Things To Do In Denver When You're Dead, 2 Days In The Valley, Love And A .45…. I watched them all while sadly clenching a 64 ounce bottle of Olde English in my college apartment.
I know The Boondock Saints has a devoted fan base, I'm aware of that for sure. But people really like The Big Bang Theory and the Transformer movies too, that doesn't negate the fact that they're inarguably pieces of shit. Art truly is subjective; however, this "film" simply isn't anything even close to resembling art so subjectivity doesn't apply here.
2/3
The spice on the retrohale has disappeared by the start of the second third and I miss it already. The coffee and earth are still front and center and overall I'm enjoying the profile. Strength is medium and construction has been good all around with the exception of a slightly wavy burn line but it's easily enough corrected. A mineral note arises around the halfway mark (I'm guessing it's that Nicaraguan filler at play) and the rich chocolate note also increases up beyond a whisper finally which makes for two interesting bedfellows. Unlike the stereotypical Pulp Fiction clones that make up the main characters of The Boondock Saints.
Anyhoo, I much preferred this more complex middle section of the cigar to the first third.
3/3
The final act is somewhat of a return to the first in that coffee and earth rule the roost while the chocolate and spice recede into the background. Right towards the nub, which remains cool enough to smoke this sucker til it's down to almost nothing, the spice on the nose returns and I appreciate that twist ending. Did the movie have a twist ending? I suppose my apathy towards this "film" and the consumption of so many of those goddamn 64 ounce Olde English bottles back in 1999 wiped that detail from the archives of my brain box – thankfully.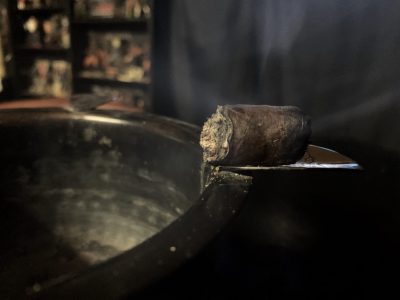 I've really come to love several cigars out of Fabrica Oveja Negra. Two of their offerings made the Tuesday Night Cigar Club's Top Ten Cigars of 2018 list and I remain a big fan of the NBK and Last Rites but… sadly I'm not going to add the Boondock Saint to that elite list. It's a fine cigar, solid core flavors with impressive smoke production, but if I'm reaching for a Black Label Trading Company offering I'm going to go ahead and pick up one of those other stellar sticks. A quick visit over to IMDB revealed that Troy Duffy followed up his Boondock success by executive producing Knight Rider 2016 so I suppose there is such a thing as redemption. KITT does in fact NOT suck and any attempt to bring Hasselhoff's Michael Knight to a new generation of fans should be celebrated!!!
…so… I just watched Knight Rider 2016, directed by one Sam Macaroni, and it turns out to be a spoof where Michael Knight is ridiculed for his clothes as he power slams Zimas and his car kills everybody in sight with a horrible CGI machine gun. And you thought I was in a shitty mood before, I now officially hate everything and everyone. Bring me another motherfucking round STAT.